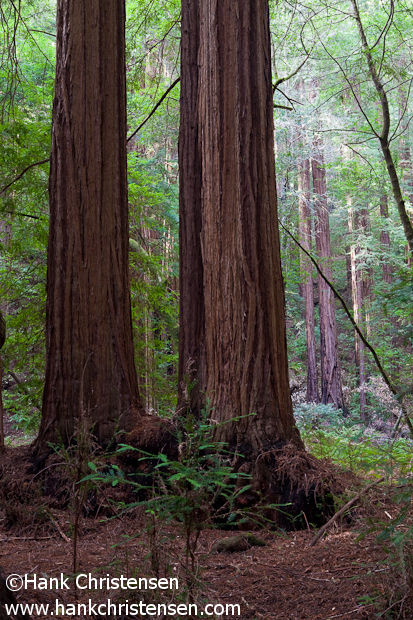 This photo was taken last week on a quick visit to Muir Woods National Monument, a short drive north of San Francisco across the Golden Gate bridge. The trails of Muir Woods merge with those in Mt. Tamalpias State Park, giving visitors many miles of hiking full of beautiful old growth coastal redwoods and stunning vistas of San Francisco and the surrounding coast line.
Although you can't tell from this photo, it can be quite dark at the forest floor, requiring long shutter speeds (which means tripods are essential). Also essential (or at least highly desirable) in forest scenes is the polarized filter. While there may be no water to reflect or sky to darken anywhere in sight, the forest vegetation itself can reflect a lot of light, especially any plants with a waxy surface. Using a circular polarizer brings out their true green color and makes them pop.
The two trees in this photo were huge specimens, stretching side by side to disappear into the upper canopy of the redwoods and Douglas fir.