A couple of months ago I wanted to photograph some of the great waterfalls in Big Basin State Park at their highest water flow. My brother Jake was kind enough to join me for the hike, and put up with me taking photos along the way. We hiked the Berry Creek Falls loop, which is one of the premier hikes in the park. The loop is about 10 miles, with the waterfall section about half way through.
The day was overcast and drizzly – perfect for forest photography. The trail out to the falls meandered through a coastal redwood forest, with massive trees on either side of the trail.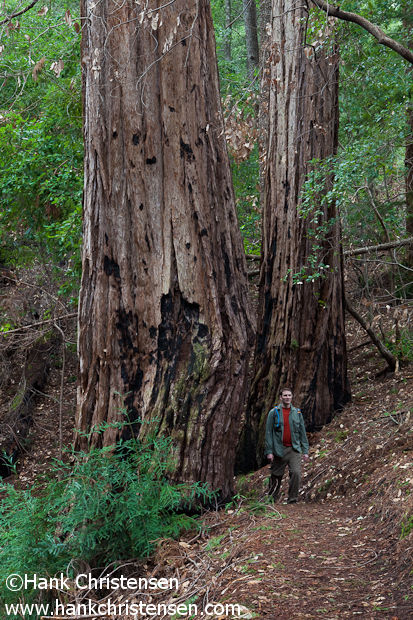 Eventually the trail meets up with Berry Creek, which ultimately makes several drops on its way to the Pacific Ocean, creating a series of waterfalls, each with their own unique characteristics. The waterfall below is Golden Cascade, which is actually made up of two sections – upper and lower cascade. The upper cascade seemed to glow a dull orange in the soft filtered light of the forest.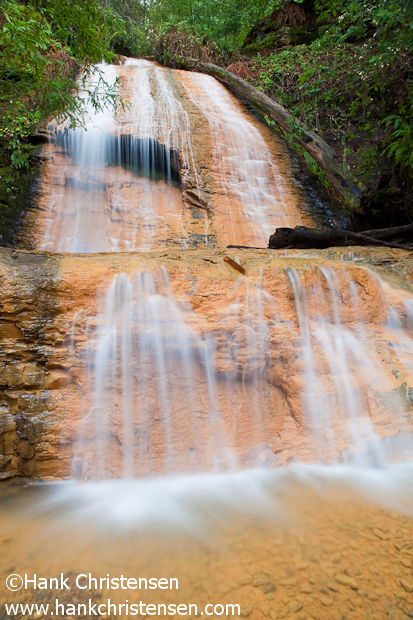 At the very bottom of the cascade was a small pool surrounded by a mud bank and the root system of a fallen giant. Water poured over the bark of a long-dead log. Because the mud bank surrounded the pool on all sides, in order to get this shot, I set up my tripod sideways, with the legs sticking into the soft bank behind me. I held the tripod against the slope so that the pressure kept if from moving. From this tight angle, my widest lens couldn't cover the entire falls. In order to compose the picture, I used a panoramic stitching technique to combine five total vertical photos.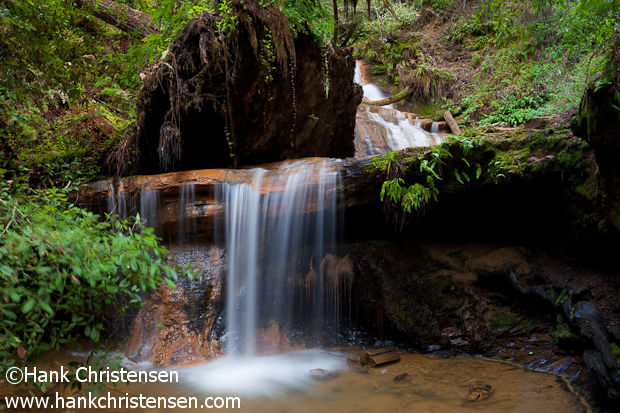 Finally we came to Berry Creek Falls, the tallest (and most picturesque) waterfall along the loop. There is a nice observation deck about halfway up the falls that offers the hiker a good view.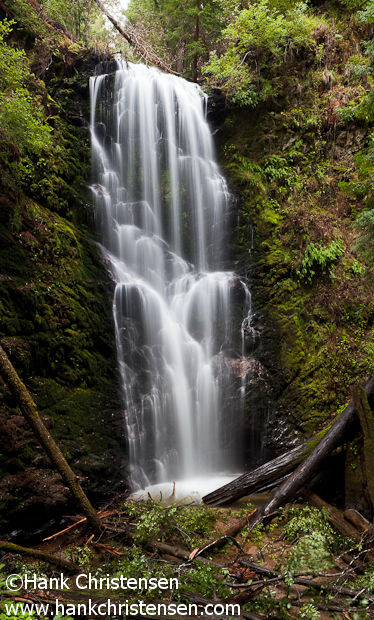 After this point the trail ascends up the other side of the ravine from the falls. There is a point at a bend in the trail that offers a great view of the falls through the forest. The shot below was another panoramic composite of about 7 photos. Once stitched together, it created a TIFF file of over 1 GB (an 81 megapixel image), which allowed me to make a 20 x 60 inch print.

Finally, the trail connected up to Waddell Creek and followed it up-river. After witnessing the waterfalls, this creek bed was no less scenic. Lush green moss and ferns blanketed the rocks and soil along the creek as the trail wound back up the mountain.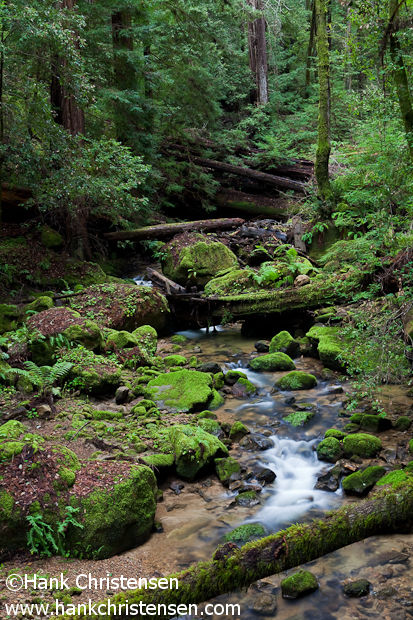 As we climbed away from the creek, a soft rain came down and cooled us on our final ascent. Overall, it was a perfect time of year and a perfect day on which to experience the park. The weather kept most hikers away, giving us long stretches of this normally busy trail to ourselves.