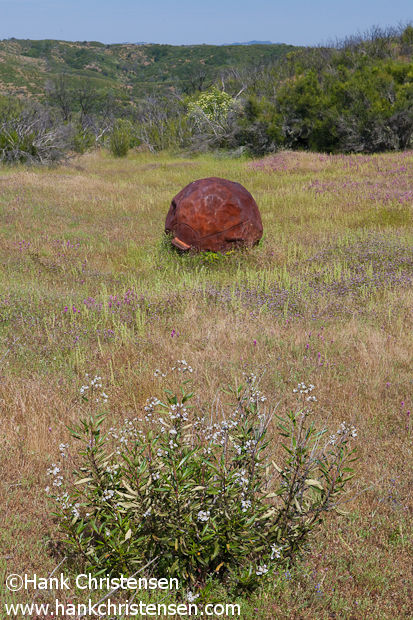 If you are a hiker or mountain biker in Henry Coe State Park, you might have come across what looks like a wrecking ball sitting in a field just off the trail. It is situated just south of Mississippi Lake about ten miles from park headquarters, and seems very out of place here. Just what was this thing, and what was it doing here in the middle of this field? Web research did little to answer my questions, but I was treated to many photos of intrepid hikers posed in front of it, none of whom had a clue to its purpose. I finally found my answer in the 2007 late spring issue of The Ponderosa, a newsletter for the park:
The "wrecking ball" … is actually a buoy used by the United States during World War II. The buoys were manufactured for the War Department in Clearfield, Utah, and were made out of 3/8″, preformed steel plates. They were used to hold up anti·submarine nets at the entrance to U.S. harbors during the war.
At the end of the war, at least 1,500 of these buoys remained unused, and they were purchased by the owner of a junk yard near Turlock, California, for $5 each. This junk dealer turned a handsome profit, selling them to farmers for $300 each. The buoys held 440 gallons of water, and farmers used them to store water.
Frank Coit, who was from the San Joaquin valley, seems to have purchased at least one of these buoys to clear out brush. Steel plates could be welded onto the buoy, a cable attached to the plate, and, filled with water, the buoy could be dragged by a tractor or bulldozer to clear brush.
It would have been quite a sight to see that beast in action, but from the looks of it, the buoy has been sitting there for a very long time.