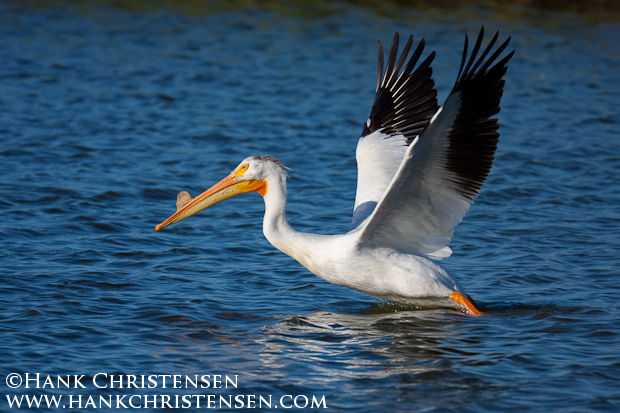 A couple of weeks ago I visited Byxbee Park in Palo Alto, just before sunset. I wanted to explore a slough I had never been down before, and was lucky to see eight American White Pelicans, all swimming together and fishing. The first photo and the next were shot as part of the same sequence of one of them taking off from the water.
You can clearly see a flat horn protruding from the top of the bill. This indicates that this pelican is breeding. After breeding season, the horn will shed off, leaving the bill as it was before.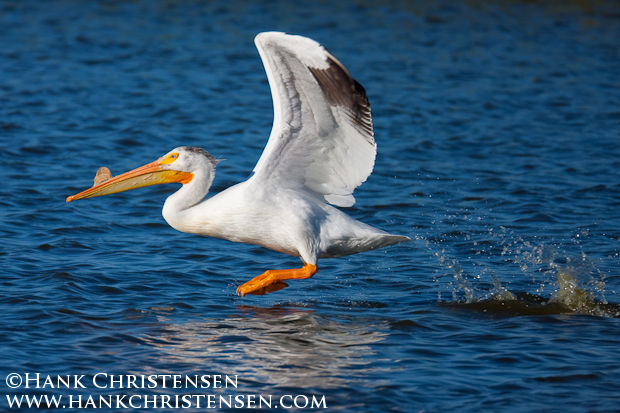 Usually I try to frame birds with most of the photo empty in front of the bird. This creates a more pleasing composition as it seems to add more room to the photograph. It allows the viewer to visualize the bird moving through the photo. With the above photo however, I knew at takeoff, the pelican would leave behind splashes as it took off into the air. I wanted to capture these in the photo, so I panned slightly slower than the bird was moving so that in this case, most of the empty space was behind the bird.
Below are several other pelicans from the same group. As I was watching one fish, he lifted his bill into a magnificent head throw.