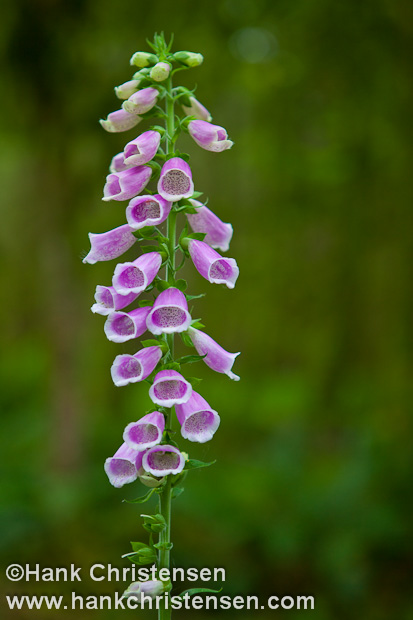 This week I'm posting a wildflower shot. I don't often get out to specifically shoot wildflowers, but seeing pristine foxglove like this, standing out against a green forest backdrop makes it hard to pass by.
I was up visiting my parents who live near the Columbia River Gorge outside of Portland, Oregon. I decided to photograph portions of their forest, which is mostly Douglas fir, and can get pretty dense in places.
Because the forest was thick, it was dark, and a tripod was required. For this shot, I used a polarized filter to cut any sheen from the vegetation. This really allowed the greens to pop. I also wanted to isolate the flowers, so I used a wide aperture (f/2.8) and the telephoto end of my 24-70mm zoom lens. In general, the longer the lens, the shallower the depth of field, so if I'd shot the flower at 24mm, even at f/2.8 the background foliage would have been much more in focus. With 70mm, all the busyness of the forest disappeared into a sea of green.
Below is another shot from the same trip, though of a different foxglove in a different part of the forest.