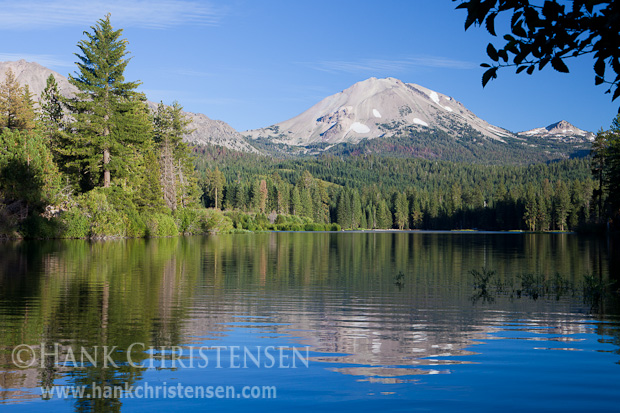 A couple of weeks ago, I drove up to Lassen National Park for a quick solo overnight backpacking trip. I could tell that wilderness camping in the park was not very common by the raised eyebrows from the ranger when I asked for a permit. "Oh. Did you hear about the weather?" she asked.
Uh oh, I thought. That is never a good sign. She went on to tell me that the temperature was expected to drop by 30 degrees and a thunderstorm was moving in, with rain expected by 11 AM of my first day. I decided to give it a go anyway, and see how bad the weather would get. Before setting up camp at the trail head, I drove north to Manzanita Lake for sunset, where I took this week's photo.
Luckily, I was blessed with great weather that evening, and had a pleasant hike around the lake capturing different views of the mountain reflected in the deep blue water. Mt. Lassen is probably most photogenic from the north, so this lake is a (very) popular spot for campers. I was happy to see some snow still clinging to the north-facing slopes.
After sunset, I drove south to the trail head, set up camp, and was soon asleep. The rain started at 5 AM and picked up from there. I packed up in the rain, tried to wait out the storm in the car, and finally gave up around 8:30. It turned out to be a good decision, because it rained continuously for the next couple of days. With low, fog-like clouds over much of the landscape, photography was rendered pointless. The handful of photos I took at Manzanita Lake turned out to be the bright spot (literally) of my trip. Overall, the trip was not what I was planning, but it is hard to be disappointed with such a beautiful scene.