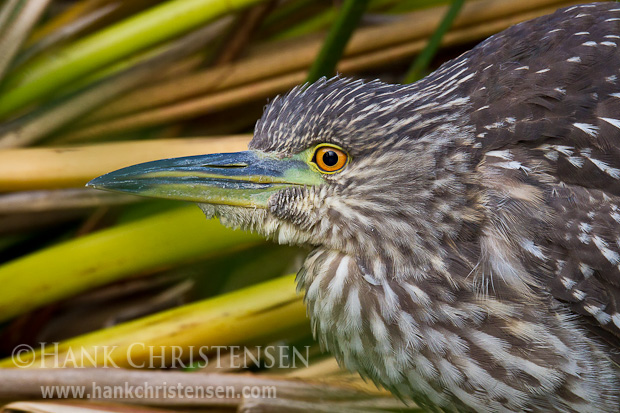 I little while ago I found myself in a situation in which I could not have gotten the shot I wanted had I been using film. After being tipped off by a friend, I found this nice looking juvenile black-crowned night heron in some reeds next to a pond. The shoreline was such that in order to get the proper frontal lighting on the heron, with a small angle of inclination between the lens view and the ground, I had to be right up close to him. Luckily, he seemed in no hurry to move, nor did he seem to care about my presence. While this distance was great for making tight head shots like the photo above, there was no way I could "back up" and capture any habitat around the bird.
Then I started thinking digitally. I knew that if I was careful in my photographing, I could take multiple photos and stitch them together later, creating the illusion of a wider angle. An added benefit would be a huge image file, which I could later print at very large sizes if I wanted to.
The process of taking the photos was very similar to the process I use for creating stitched panoramas – set the camera to manual exposure, fix the focus so that it is constant for all images, and fire away. The difference was that instead of moving left to right in a single line, my goal was for an aspect ratio close to a normal 35 mm photograph (2:3). In this case, I created two columns of three photos. I didn't worry about lining up the overlap perfectly – I just eyeballed it.
Note that this only worked because my subject was completely stationary. If the heron was moving at all, the photos would not have lined up well and the stitched image wouldn't have been successful. It probably took between five to ten seconds to capture all six shots, which I then stitched in Photoshop, creating the 50 megapixel image below.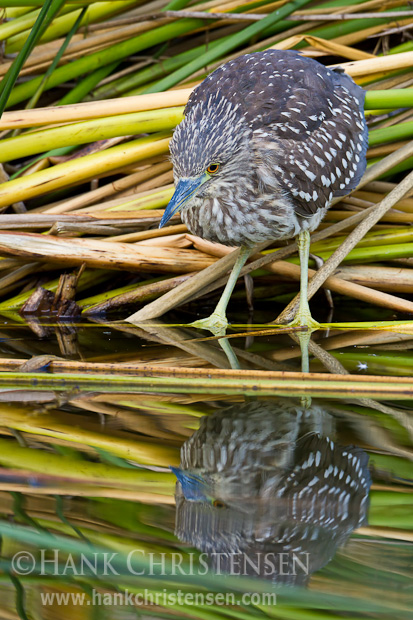 Even though I found myself in a position where I was "too close" (don't worry, I'm not complaining – its a GREAT problem to have!), I was able to think digitally to solve my problem. By combining multiple shots, I was able to virtually "back up" and capture a wider shot of the heron.