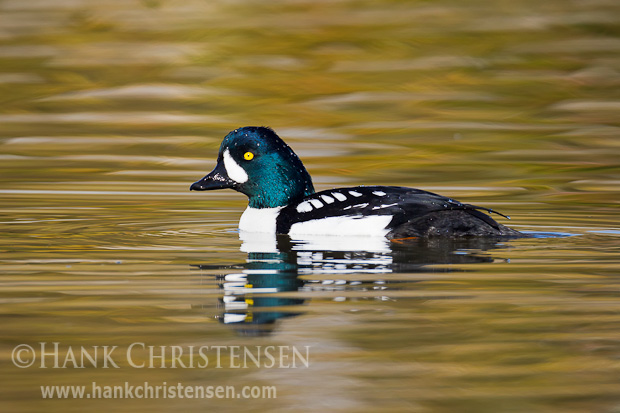 This week's photo features a Barrow's goldeneye. The Barrow's is similar to the common goldeneye, but, as its counterpart's name suggests, is less "common". In fact, only a few are seen in the San Francisco Bay Area each winter, whereas the common goldeneye can number in the thousands (with dozens visible at one time).
While both male species look similar, the Barrow's goldeneye has several distinguishing features. The two most prominent are an elongated teardrop shaped white area in front of the eye (the common has a smaller circular white patch) and a row of white squares across the base of the wings (which can be seen across the top of the back in the photo above).
When I found this male, I was lucky enough to find a female with him (which I assume made up a breeding pair).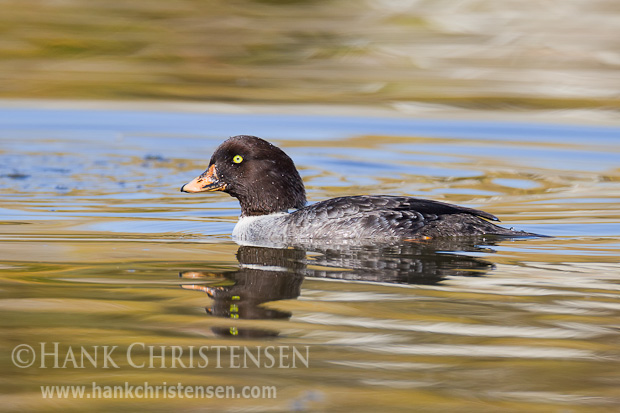 Female Barrow's goldeneye look more similar to the female common goldeneye. The biggest difference is a completely yellow bill (as above), compared with a yellow-tipped black bill on the common. Other than that, they look identical (to my eye).
I saw this pair on several occasions, as they frequented the same spot for a couple of weeks at least. On one occasion, I began to worry for the female, because I saw the male swimming with a would-be harem of twelve female common goldeneyes. There were no male commons in sight. These two species have been known to crossbreed, but I'm not sure exactly what was going on in this situation. Perhaps it was because he was the only male of either species around, or perhaps it was just because he is much cooler looking with his bold white square pattern. The next time I saw them however, his lady was back at her top spot, and the other females has moved on to more common mates.