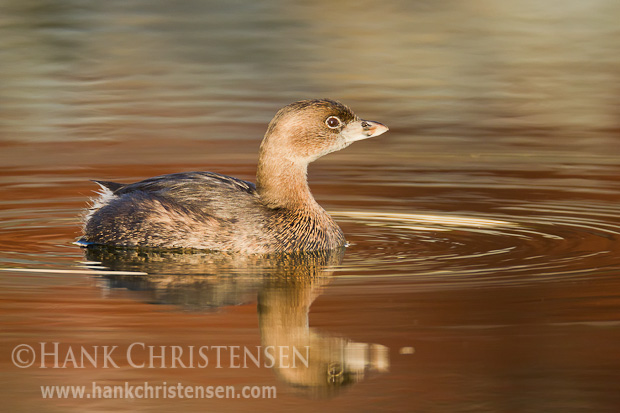 My photo pick this week is of a pied-billed grebe that I found swimming alone in a narrow channel in a neighborhood near my house. The afternoon light reflected off of the rocks in front of me, which acted as a diffuser, giving me night even light across the scene. Houses along the opposite shore cast the water in a reddish hue.
As always, I tried to get as close to eye level with the bird as possible. However, it was difficult to do so in this spot, requiring me to pick my way over sharp rocks to get close to the water. True eye level was impossible here, as the channel was only about fifteen feet wide, and the immediate shore was too steep to set up my tripod. I made the best of the given situation, unfolding two of the legs so that they were close to flat, with the third tripod leg longer and pointing downhill, almost touching the water. Then I sat down underneath and behind the camera – giving me a comfortable position from which to shoot, while still allowing good hand support for my lens. It also lowered my profile and allowed me to be absolutely still, which will usually allow the target bird to approach closer instead of swimming away (which they often do!)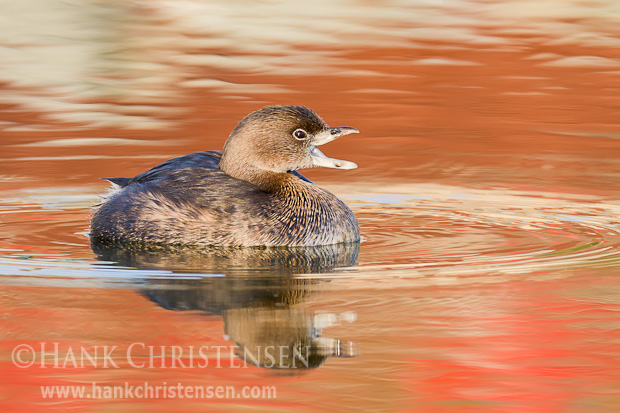 By remaining perfectly still, I was able to photograph this grebe for a while as it swam back and forth in front of me. The narrow channel kept the wind off the water, creating great reflections.
When I'm out specifically photographing birds, I look for two things – either an uncommon species that I haven't photographed before, or a great shooting situation with good light and the right aesthetics to create a good photograph. I've photographed pied-billed grebes before, but this was a situation I couldn't pass up because of the nice light, great reflections, and close proximity to the bird.