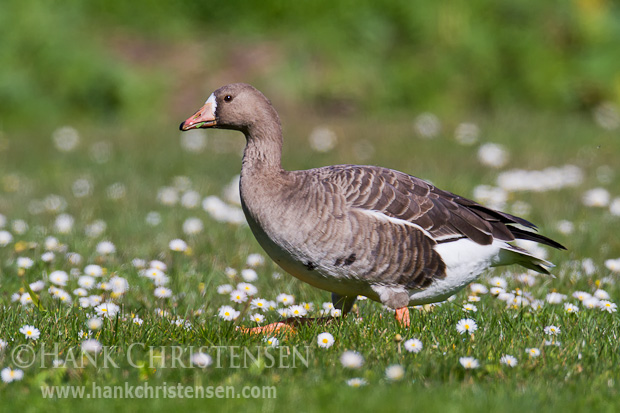 Canada Geese are everywhere around the San Francisco Bay. And I mean everywhere. This year-round resident breeds throughout the bay area and infests parks, lakes, sidewalks, and streets. The geese are so ubiquitous, that most people just block them out and ignore them. But every once in a while it pays to scan flock of Canada Geese – you might just find one that sticks out.
Such is the case with the Greater White-fronted Goose, which (at least in my area) tends to hang out with larger groups of Canada Geese. They are slightly uncommon for the area, but in the winter you might find one or two with their Canada brethren. A singular Ross's or Snow Goose can also be found mixing it up with Canada Geese, as can the Cackling Goose, which looks almost identical to a Canada Goose, except that it is the size of a mallard.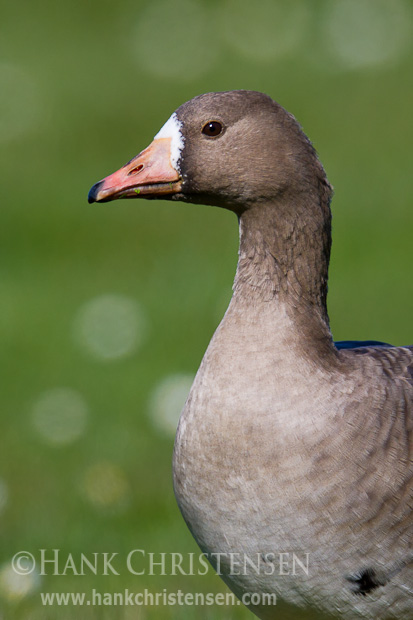 I found this goose in a local park along the bay. I set up a little ways away and waited for him to separate from all the Canada Geese so that I could get some solo shots. He was quite cooperative, posing occasionally for some portraits like the photo above. I used an aperture of f/8 in order to have enough depth of field to cover his entire body. If I kept the aperture large and focused on his eye, the close edge of his round body would likely have been out of focus.