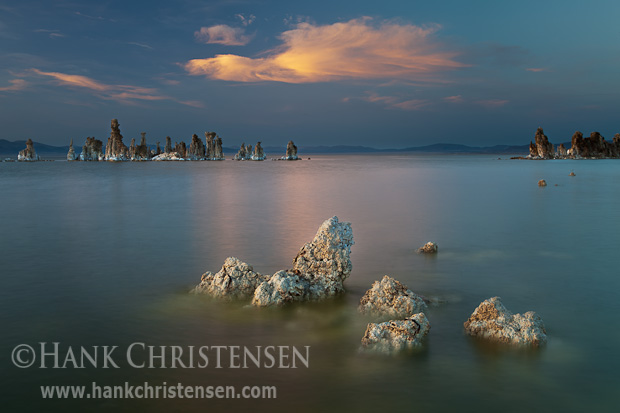 After a first evening of disappointing skies at Mono Lake, I went back later in the week on my recent trip to the eastern Sierra. Some clouds were building in the afternoon, and it looked like it would be a decent evening for sunset.
In my mind's eye, I envisioned still waters, mirrored reflections of tufa, and a lightly clouded sunset sky. The sky was certainly shaping up, but late in the afternoon, the wind picked up and blew away any chance of tufa reflections. Because the wind was blowing the water into small waves hitting the shore, I decided instead to use a longer exposure to translate that lake motion into a quiet mist.
I knew that the tall tufa spires I had previsualized were out – I needed something smaller to use as a foreground to lead the eye into the lake. Whenever using a long exposure to create a water mist effect, I always juxtapose the water against razor sharp, highly detailed subjects. These usually end up being rocks, but in this case, tufa would work just as well. I walked along the shore until I found what I was looking for.
Trying to achieve a longer shutter speed, I added a circular polarizer and lowered my ISO to 50, giving me an 8 second exposure. This was plenty of time to soften the water, giving me the sought after effect. I moved back and forth, forward and backward, working the composition until I was happy with it.
After the sun had set, I walked back along the shore looking for subjects that would work well in twilight. The composition in the photo below caught my eye, and I made a quick photograph on my way back to the car.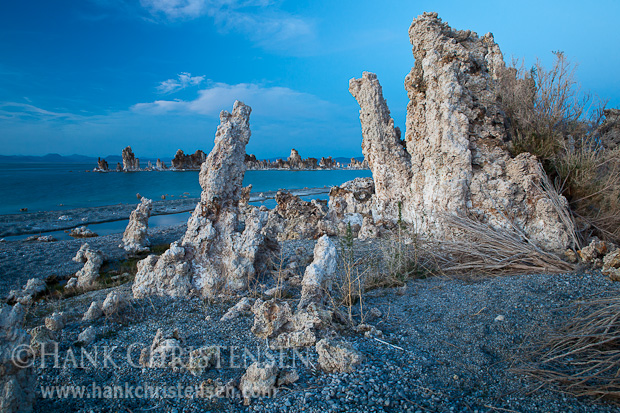 On my second visit to Mono Lake, I was much more satisfied with the weather, giving me clouds to add a little texture to the sky. But I had to remain nimble in my thinking to work with and accommodate the wind. Sometimes all the planning and thinking about a place must be thrown out the window, but what you get in return may be unexpected and a great reward.