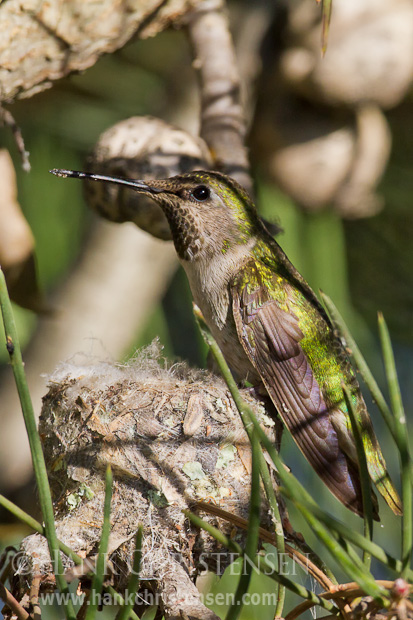 Recently I was alerted to the location of an anna's hummingbird nest near my house. After much searching, I found a nest the size of an espresso clinging to a narrow tree branch. No hummingbirds were visible, but I knew this nest contained several recently hatched chicks. I could hear them making faint sounds as they waited for their parent to show up with food. Finally, an adult approached and perched on the edge of the tiny nest.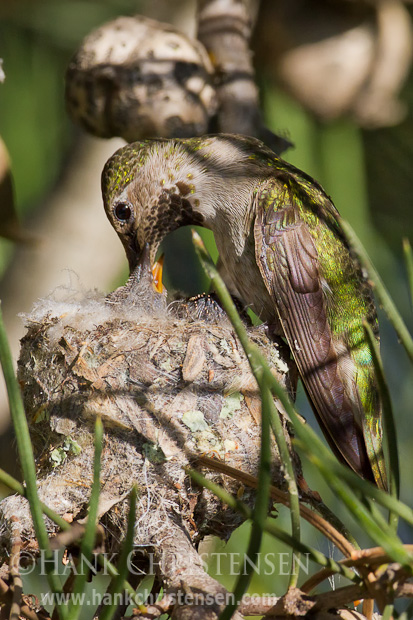 The hummingbird proceeded to feed each chick one by one. Once it was finished feeding them, it settled down for a short rest on to of the nest, incubating the chicks.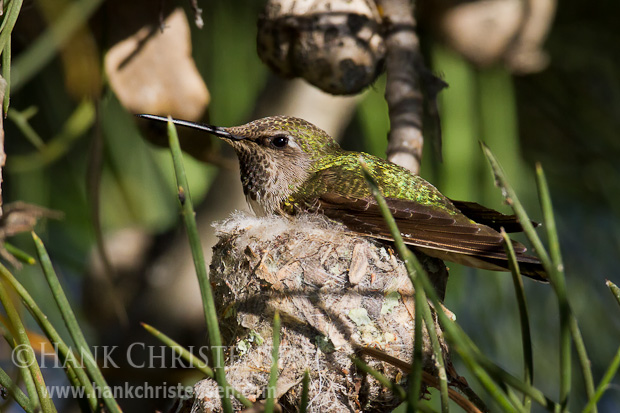 I took these photos from 20 feet away, which is the minimum focusing distance of my lens. It is important to never approach any kind of nest too closely. Doing so will disturb the nest and stress the birds, potentially causing the death of the chicks.
In fact, after taking these photos, I saw a couple approach the nest, and start trying to pull away some of the pine needles you see in the above photos, so that they could get a better view. This is perhaps the most destructive thing they could do, short of picking up the nest and dumping the chicks on the ground. After asking them to back away from the nest, I explained that in pulling away cover, they were exposing the nest to predators, and leaving the nestlings vulnerable. That exact scenario had played out with a similar nest in the area only weeks before. Someone had broken away protective branches around the nest, and all the chicks were killed.
Hopefully these little ones made it.