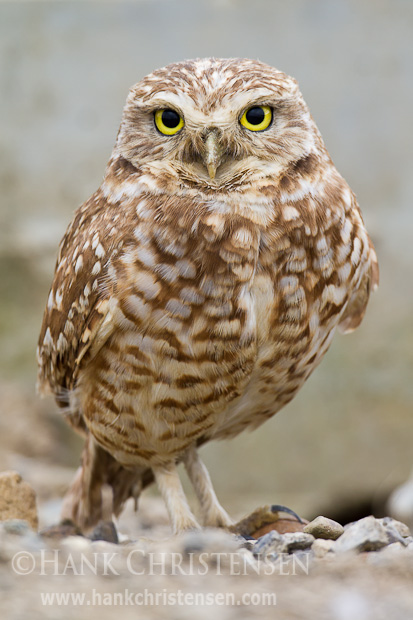 This week's photo features a popular favorite – the burrowing owl. This species exists throughout the Bay Area (if you know where to look), but every year their habitat is either destroyed or urbanized. Instead of living in a natural grassland habitat, they are now more often found on golf courses or other large landscaped areas (such as corporate campuses). Fortunately burrowing owl advocates tend to be passionate and active, which may yet give this species a fighting chance.
The burrowing owl is one of the more photographed species of owl in the Bay Area, mostly due to the fact that they are non-nocturnal, and burrow away from trees in more open areas. That is not to say they are easy to find, however. I've located an owl in its burrow with my long lens before, then looked up and was unable to locate it with my naked eye. Their camouflage is so good sometimes, that people almost step on them before they see them.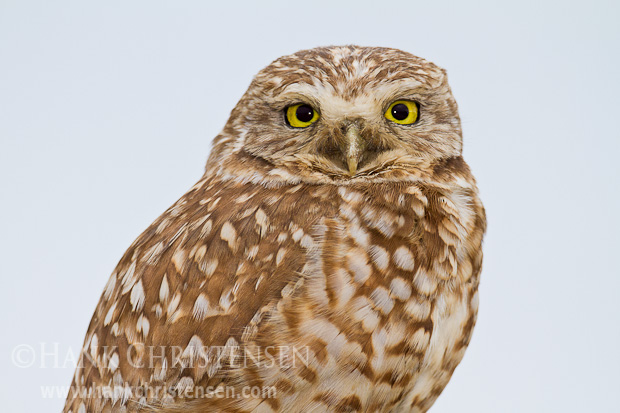 I found this owl in the Alviso area of San Jose. There were high overcast skies, which can be very good for bird photography. The shadows are softened so you can shoot all day. In the lower image I used a fill flash to introduce a catch-light to the bird's eye. Neither images are cropped – a testament to the power of the 800mm lens.