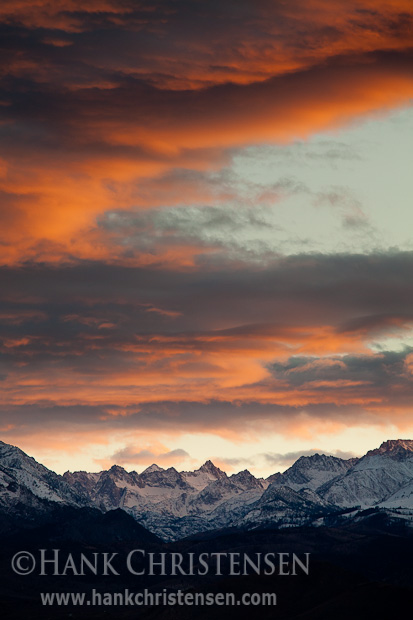 Earlier this month I made a trip to Bishop, CA and the surrounding areas to see what the autumn colors had to offer this year. I knew it would be unpredictable, given the huge snowfall of the previous winter, combined with this year's short summer. The weather played one final card as an early snow storm moved in right before my trip, dumping snow in the mountains. Unfortunately, this snow killed off the trademark fall color of the eastern Sierra, turning those golden Aspen leaves to brown and black. However, I was treated to a pristine white mountain backdrop, at least for a few days.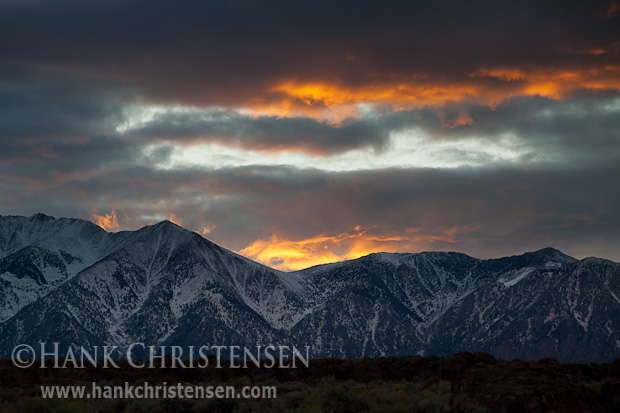 When I got into town, I met up with photographer friend Dan Canfield, and set out to the Chalk Bluffs north of Bishop for the first sunset of the trip. As dusk approached, it looked like the sunset would be a dud. One small wispy cloud mocked our photographic anticipation.
However, as the sun crept toward the eastern mountains, dramatic clouds began building up and materializing above the horizon. Once the sun set behind the range, we were treated to twenty minutes of pure (and frantic) delight. The colors played across the ever-changing clouds, which congealed and dissipated with casual acquaintance. Soon it was all over, as the sun slipped away yet again.
These moments always pass too quickly, but that's part of what makes them so special. I felt blessed to witness such a powerful display of natural forces in one of our earth's special places. Stay tuned for much more from this trip – I'm processing the photos as quickly as time allows!