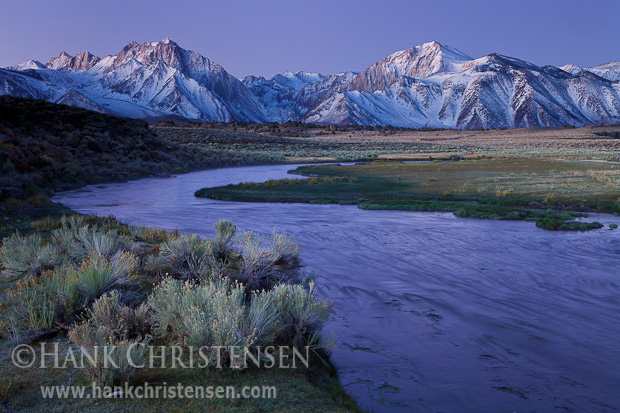 One of my first sunrise shoots on my recent trip to the eastern Sierra was at Hot Creek. I wanted to catch some snow from the recent snow storm before it melted out of the mountains, and I knew this spot would work well with longer lenses to help emphasize the mountains.
The first shot was taken a half hour before sunrise. The scene was just starting to light up, but still maintained some of the cooler hues of night. Although there were no clouds to work with, there was some slight haze above the mountains, which reflected some of the deep purple of pre-dawn.
One of my biggest challenges in these early morning shoots is staying warm as I patiently wait behind my tripod for the light to change. For this location, the main foreground attraction was really the flowing creek, so I didn't move around a lot. If you had been there that morning, you would have seen what looked like a crazy person jumping up and down and blowing on his hands to keep warm (yes, I forgot my gloves that morning).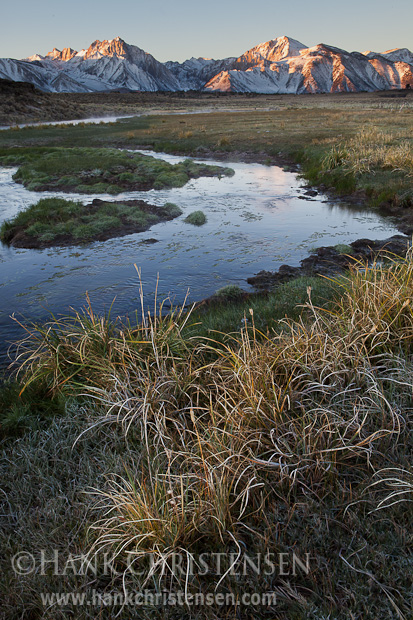 After the sun rose and I felt I captured that part of the creek in the best light of the morning, I explored with the camera a little trying out different foregrounds and lens lengths. I'm a sucker for near/far verticals, and that's what my eye gravitated toward when I saw this long grass growing along the bank of the creek.
Soon enough the photo shoot was over, as the morning light faded and fishermen began to show up along the length of the creek.