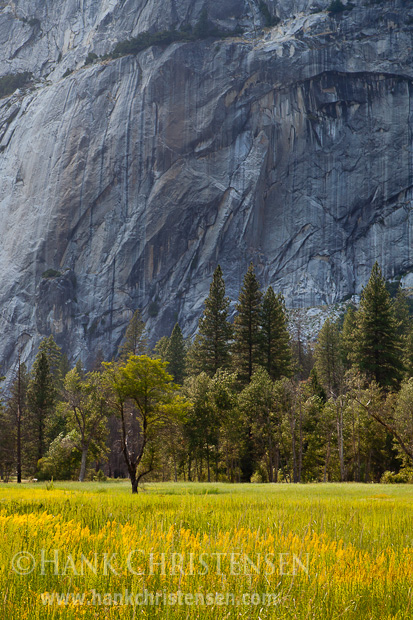 This summer I spent some time with some old friends backpacking in the Yosemite high country. I love the high country any time of year, but especially in the summer, it offers a cooler respite to the throngs of visitors choking the roads of Yosemite Valley. However, one of my friends had not been to the park since he was a young child, and since we had a little time on our first day, we wanted to drive down in to the valley. I was game, but photographically, I was not expecting much. The valley was hot, had bad lighting midday, and several controlled burns were blowing smoke up the Merced, coating everything in a brown haze.
As we drove down into the valley, seeing all the tourists got me to thinking about originality and photographic vision. Here were millions of people getting out of their cars and taking essentially the same photo as the person they were standing shoulder-to-shoulder with. I started to formulate a challenge in my mind – search for a photograph that captures some of the essence of Yosemite Valley, but keep it fresh and unexpected. I didn't know if I could come away with something I was proud of, having been through the same area with my camera so many times before.
Luckily the natural world is ever changing and constantly brings new surprises at every bend. The first thing I noticed were all of the wildflowers blooming in the fields on the valley floor. The yellowing grass of late summer was punctuated by brighter yellow blooms, spattered throughout the fields with chaotic perfection. Suddenly three elements came together, and I knew I had the shot I was looking for. A California black oak stood apart from its neighbors, surrounded by intense wild flowers. Behind the tree rose an immense sheer wall of granite, juxtaposing the flowers with cool blues and grays. Here was the essential Yosemite Valley, captured in a way I had never done before.
I couldn't help but have a smile on my face as I strolled back to the car – a great start to a great trip.