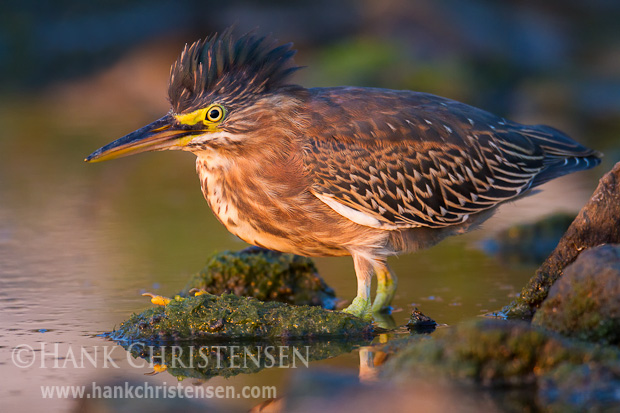 A little while ago I had the good fortune of finding and photographing a juvenile green heron in the last few minutes of the golden hour of sunset. Green herons are much more difficult to spot than their prolific cousins, the great blue heron, and the great and snowy egret. First of all, there are fewer of them around. Secondly, they usually hide out of sight more often, and they are notoriously difficult to spot against their background. Once I was 15 feet from a green heron, and I kept losing sight of him amongst the rocks – not because he was behind anything, but because he blended in so well.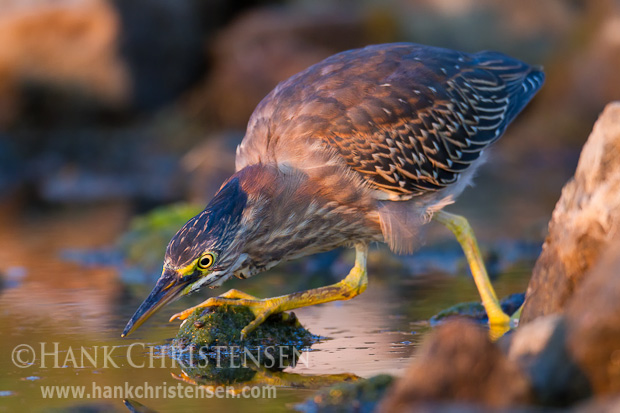 I found this heron more of less out in the open, but only saw it because it landed a mere 40 feet away from me. I slowly crept down to the water's edge, lowering my tripod carefully as I went. I crept a little closer but did not want to flush this bird. The chances that it would land somewhere else that was as accessible were slight. As I watched it poke around in the mud at the edge of the slough, it started working its way toward me. All I had to do was remain very still and wait.
Eventually it got within about 20 feet, its body now filling my entire frame. By now the sun was just starting to set behind me, bathing the heron in beautiful warm light. As it settled into its now position, it started to watch the water carefully, looking for movement beneath the surface.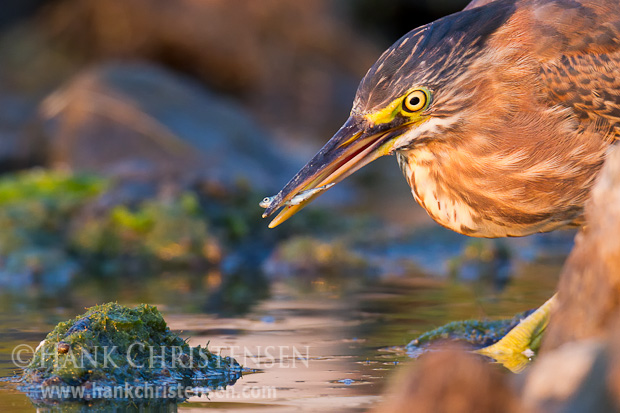 In the last minute of sunlight, its beak snapped into the water and out emerged a tiny fish. A quick gulp and it was gone, along with another successful day of bird photography.
Had I tried to approach this bird, I never would have gotten this close. Only by remaining absolutely still did my presence put the heron at ease. Also, young birds tolerate human presence much more than adult birds. I suppose its because they have not yet learned to fear humans, but whatever the reason, I was happy to take advantage of even a temporary trust.