Recently when I lucked out by capturing four different grebe species in one day at Shoreline Lake in Mountain View, I witnessed something new for me – two eared grebes who had paired up for season were not only showcasing their courtship behavior, but were also mating. I was surprised to see this because usually the grebes head north for the summer before mating, and as a result I had never seen this behavior before.
Their courtship seemed to have several stages of intimacy. First, they swam close to each other across the lake as seen above. Suddenly, they would run side by side across the surface of the water (essentially flying very low over the water) and quickly make it to shore, only to turn around and swim slowly back to their starting location.

Occasionally, they would attract the attention of an unexpected guest in their over water flight.

Once they had performed this flight several times, they stayed out toward the middle of the water and proceeded to mimic each other, a behavior seen frequently in other grebe courtship displays.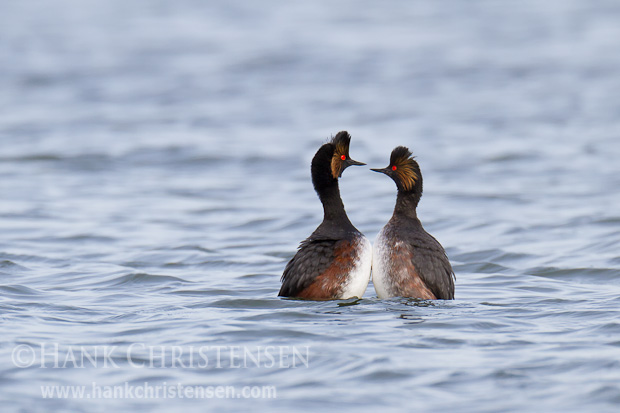 After satisfactorily copying one another, there was no putting off the inevitable. It was time to seal the deal.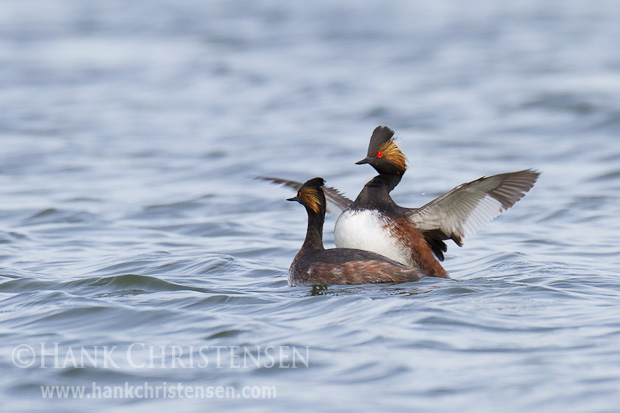 As I said before, I was surprised to see actual mating behavior. I have not heard of eared grebes successfully nesting in the area, so I assume this couple soon headed north for a more traditional breeding season together.