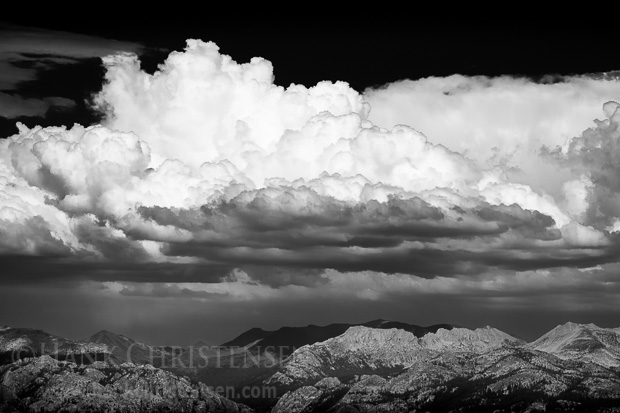 Recently I made a short overnight backpacking trip to the Ten Lakes region of Yosemite National Park. The trail to Ten Lakes starts at Highway 120 and heads north, into the Yosemite high country. Unfortunately, the sunrise and sunset weather conditions were not optimal for my particular location. With a large cliff to the west of my camp site, I was more or less blocked from the setting sun. Sunrise came with blue bird skies – definitely not what a landscape photographer is hoping for!
However, some of the best atmospheric drama came from the typical afternoon cloud buildup over the high peaks. As my group reached Ten Lakes Pass, we were greeted with a large cumulus buildup, and distant showers, providing a dramatic topper to a never ending mountain range to the north.
There was such detail in the cloud textures that I began thinking instantly of Ansel Adams, and the magnificent work he created on similar afternoons in the high country. I began thinking in black and white, centering my composition on the clouds, and using the mountains as nothing more than to give the photo a sense of place. The stark blue sky above the clouds was turned black by applying a strong orange filter (in post processing of course!), which rendered the isolated cloud bursts below the clouds in lighter grays.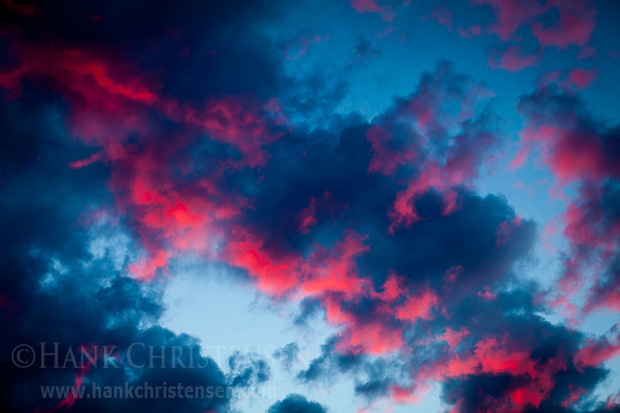 That evening, I watched the sun settle with bland ambivalence behind the ridge line to the west. It was not quite yet true sunset, but my world was thrust into shadow. Dark, colorless clouds spotted the sky, but I couldn't tell if the western horizon was free of cloud cover or not. Just as I was about to give up and pack the camera, the bottom of the clouds lit up in a surreal magenta. With nothing to anchor the shot, I began creating cloud abstracts, loving the way the sun colored the bottoms of the clouds, leaving the upper clouds dark and mysterious.
Although I took many other landscapes on the trip, nothing spoke to me like these two cloud images. I was satisfied returning with these two images and happy memories of being out in the wilderness.