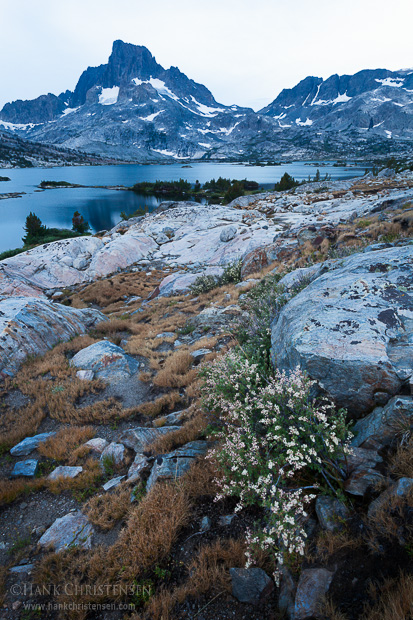 Last July, my friend Steve and I set out to hike the John Muir Trail, something we had been talking about for several years. We had already canceled the trip once before several years ago when a 70 mile training hike along the PCT aggravated some cartilage damage in one of my knees and it swelled up for several weeks. But this year, we had been careful with our training, planned all the food and mailed off our resupply. We were ready to go!
We met mid day in Bishop, and drove down to Whitney Portal to drop one of our cars at the trail head, which would serve as the terminus of our trip. After more than 10 hours of driving, we were finally back in Bishop, getting an early night sleep so that we could get an early start.
Five AM rolled around and we drove back to Yosemite, stopping in Tuolumne Meadows to drop a food resupply that we would pick up the following day along the trail. Finally, we got back down to a jam packed Yosemite Valley, bursting at the seams with summer visitors.
By now, it was almost 11AM, a very late start for a full day on the trail. In addition, we were unfortunate enough to start our trip on one of the hottest days of the summer. It was north of 100 degrees when we began our laden slog up the switchbacks to Nevada Falls. There were safety volunteers all along the trail warning people of heatstroke and helping those who were in danger of passing out.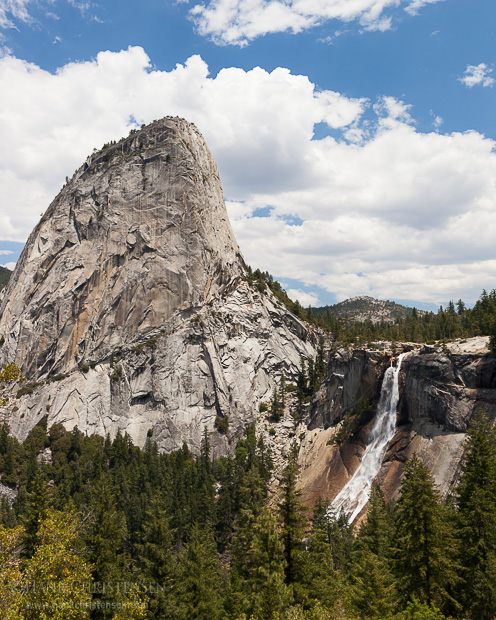 Being midsummer in a dry year, Nevada Falls was flowing at far less than maximum. But the stunning beauty of the Sierra Nevada more than made up for a somewhat anemic waterfall.
After a grueling afternoon, we finally got off the veritable highway that is the Half Dome trail, and continued along the more secluded JMT. The crowds faded away and it finally began to feel like the start of our journey. Soon however, afternoon storm clouds started rolling in, followed in short order by the ominous rumbling of distant thunder. Rain drops, softened by their journey through the forest canopy, began to splash around us.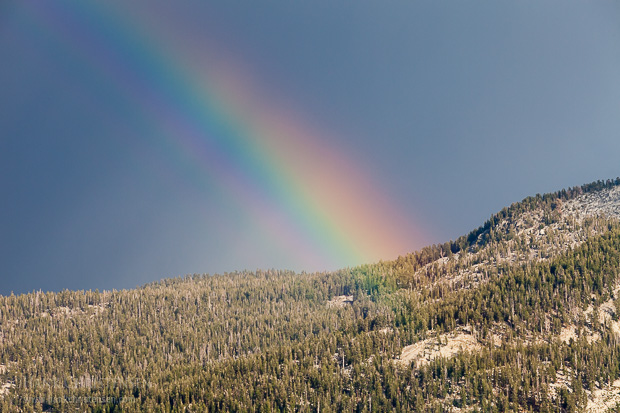 Worried glances were exchanged, but not solely due to the increasing rain. During the entire climb from the falls, we had seen creek bed after creek bed, all bone dry. The light snow pack of the previous winter had rendered the high country a dry zone, punctuated only by year-round mountain lakes. Ironically (considering the downpour), we had to find water before setting camp, or we would go to bed hungry and thirsty, risking severe dehydration.
We stopped for a short time under a towering redwood watching the storm pass through. But time was marching on and the afternoon was growing old. Continuing our climb at an anxious pace, we passed grand views of Mt Clark.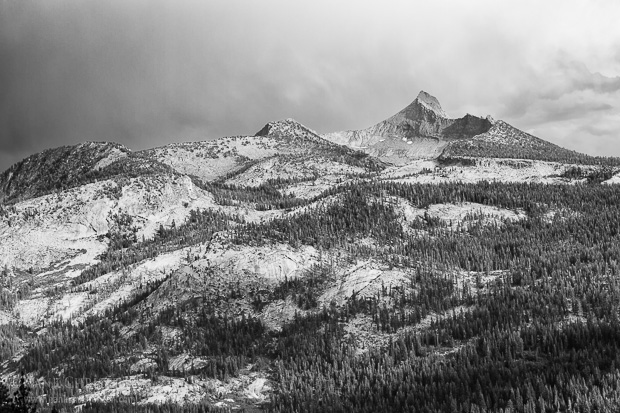 Finally, using his uncanny sixth sense, Steve "sensed" water and left the trail. Off trail, over a low rise, we finally came to a narrow trough in the forest floor. Water bubbled along its bottom, giving us just enough volume from which to pull drinking water. Exhausted, we set up camp, ate a quick dinner, and collapsed in our tents, forgoing a camp fire. Secretly I hoped we had seen the worst of the rain. If only I knew what was coming….
See the conclusion of the journey here.