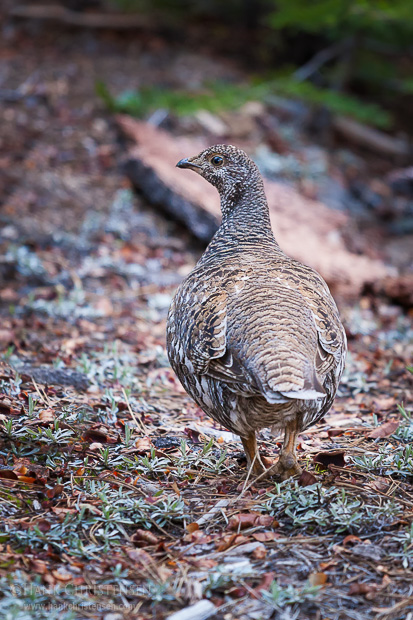 On a recent backpacking trip to Yosemite I managed to see and photograph a female sooty grouse. I had been hearing the booming calls of the male all day long as I made my way up switchbacks out of the valley, climbing ever higher into the high country. Although very vocal, the males are very hard to spot. They create a deep booming call that resonates at a low frequency. This allows the call to travel a great distance, but it is difficult to discern directionality of the sound. In addition, males will fly up into tree branches to broadcast, while most of the life of the female is spent foraging on the forest floor.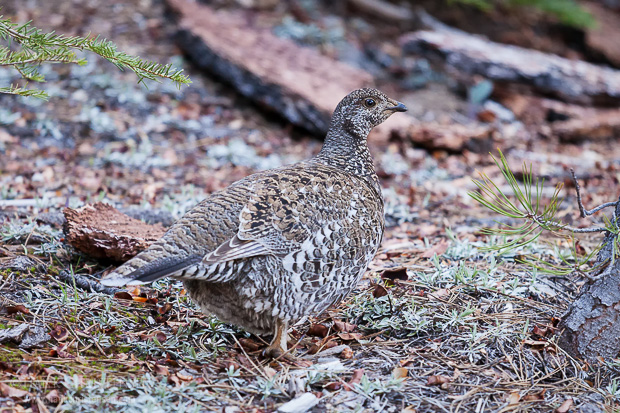 Indeed this is where I found the female – scratching for food in a sparse forest next to a creek. This situation called for me to stretch my stalking skills to the maximum, because my longest lens I had with me on my trip was my 70-200 mm, and this was on a full frame camera. I usually photograph birds with an 800mm on a 1.6X cropped sensor, so I was at a severe disadvantage to my usual setup.
Creeping ever closer, I managed not to disturb her too much. My best shots came when she ducked behind a tree and wandered into a small clearing. I managed to sneak up directly behind the tree, and then peak around the side.
Trying for these shots in a dark forest required I gather as much light to the sensor as possible. This meant shooting wide open (f/4 was the best this lens had to offer), using the lens' image stabilizer (of course!), and shooting at a high ISO.
Although this is not the most colorful bird I have ever photographed, I was excited none the less. It was a life bird for me, and it was thrilling to have such an opportunity when I was not on a trip specifically geared toward bird photography, and I didn't have my optimum gear with me.