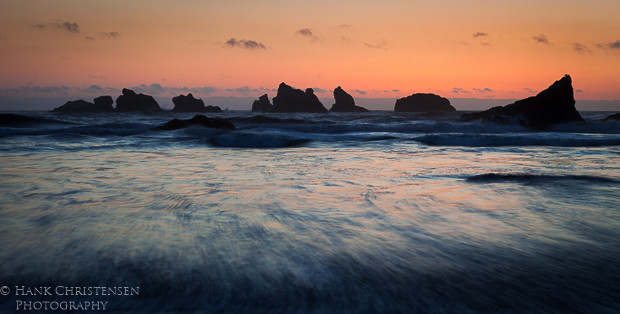 This spring I made a trip with a friend to photograph the area around Bandon, Oregon. Bandon is a very popular golf destination, and in recent years has become a gathering point for many photographers. Mornings and evenings can see dozens of tripod wielding forms roaming up and down the beach, searching for that unique perspective. Here are a collection of sunset photographs I made over the course of several days.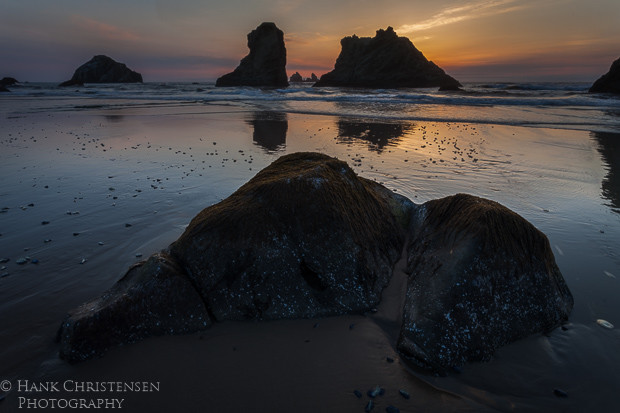 While I was there, I was blessed with some reasonable low tides at sunrise, but unfortunately, most sunsets coincided with higher tides, moving me further away from some of the spectacular sea stacks for which this area is known. However, you always have to work with what nature gives you, and I used the varied tides to give me a wider variety of images.
In the shot above, I worked with a lower tide, which allowed me to use a wide angle and get very close to the foreground rock. This gave the beach a lot of depth, and pulled the sea stacks farther into the background.
However, in the shot below, the tide was in much further. This allowed me to use a longer lens and compress the rocks together, giving much more weight to the background sea stacks.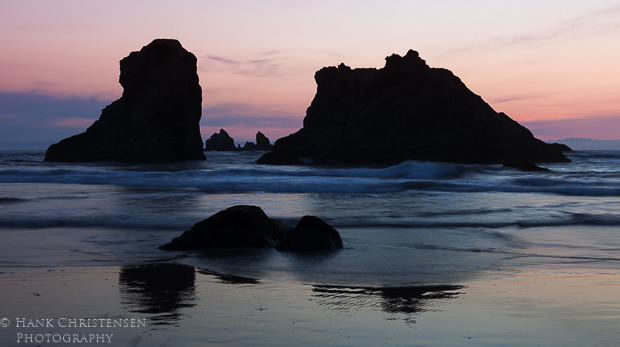 In the hour before sunset, I moved closer to one of the sea stacks and played with sun stars along the edge of its silhouette. The sinking sun forced me to constantly change my tripod position, but it helped to have a vertical line to play against. This gave me many more opportunities than if the sun sank behind a horiztonal-oriented object. To catch a good sun star, you have to use a stopped down aperture and catch a light source right on the edge of an obstruction.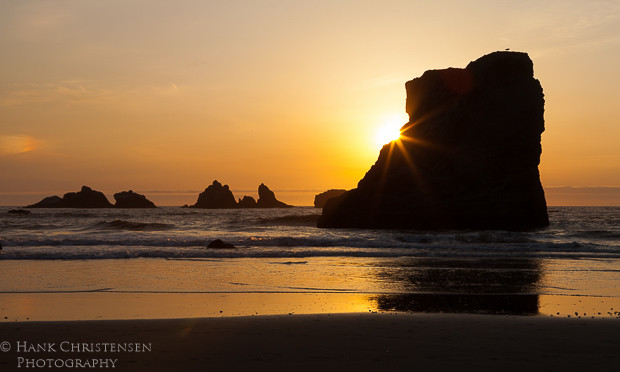 Unfortunately for much of the trip, we had clear skies in the evening. We did get the sunset glow over the horizon, but the color interest faded to dull grayish orange as you moved up in the sky. This kept most of my compositions low to the horizon, choosing instead to catch the color interplay of red and blues in the moving waves.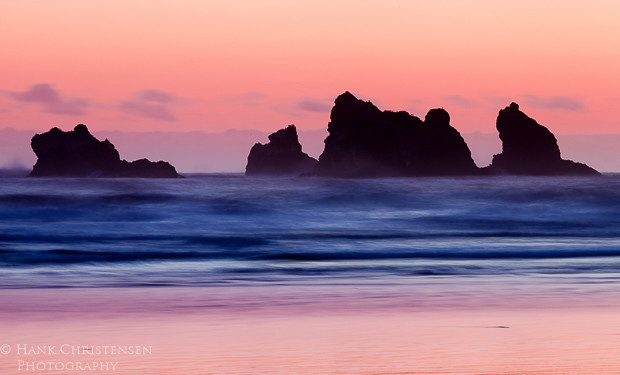 It always helps to get a variety of lens lengths to capture a subject in different ways. In the shot above, I used a long telephoto to compress the waves and rocks together, creating a more graphical image. In the shot below, I went much wider, including more of the sky and much more of the incoming waves.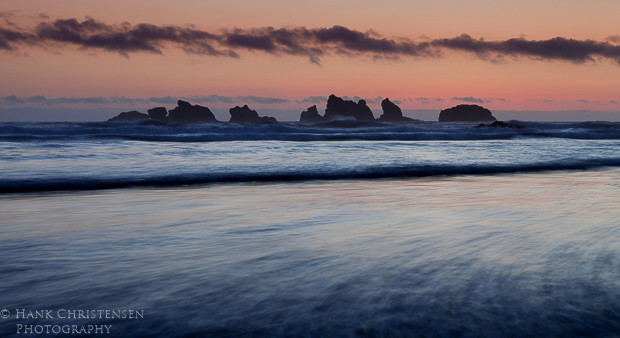 In all this was a sometimes frustrating trip due to the weather. Many mornings were socked in with fog and the evenings saw blown out clear skies. But trying to pull variety out of the location is always a challenge I strive to overcome. I know I'll be back to this location in the future, hoping for more changing conditions and weather variety.