You'll often hear professional photographers talking about "pre-visualizing" the photos that you want to take. Abstractly, this makes sense – instead of going out for the day and just snapping what you see (many people can now do this with their phone cameras that they have with them all the time), you think about specific photos that you want to capture, and then go about creating them. Sounds great, but how does it actually work?
With landscape photography, if you don't pre-visualize a photo that you want to create, you'll end up driving around all day looking out the window of your car until you happen to get lucky – being in the right place at the right time. This can work well for you, especially if you have unlimited money for gas and many years to spend driving around! Let's put this into practice. Let's say I want to capture a shot of the sun reflecting across the ocean. I live in California, so that means sunset. Looking at a calendar will give me the exact time to be there. Now I have my time, but what about place? Do I want cliffs dropping into the ocean with the sun lighting them? Do I want a wide beach with waves? Do I want the smooth water of a bay or inlet? Do I want strong foreground elements like smooth boulders or footprints in sand, or jagged rocks jutting out of the sea? First I answer these questions, and then do some research. Obviously the internet is a great tool for finding reference shots of specific places, but topographical maps or applications like Google Earth can help immensely.
Here is a shot in which pre-visualizing the photograph that I wanted played an essential role in the success of the photo. It was a dark, overcast, winter day and the wind had picked up. Definitely the kind of day that you cozy up by the fire with a good book. I wanted to create a photograph to capture how I was feeling – something moody, black and white, and dramatic. Kerry and I decided to head to the coast and enjoy the cold and solitude. Half way into our walk I saw a subject that perfectly communicated what I was feeling – a bent over lonely tree on a sea cliff, struggling against the wind.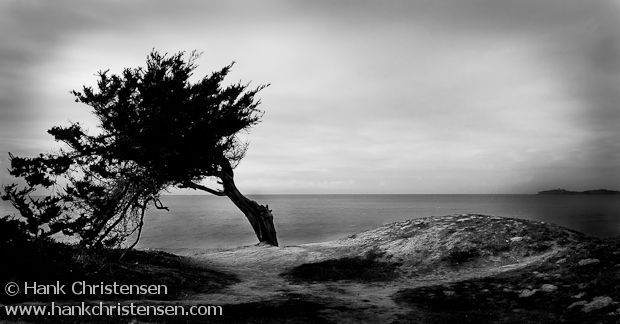 I knew when I took the picture that I was only part of the way to my imagined image. The rest would come in post-processing by converting to black and white, adjusting the levels to really silhouette the tree, and burning the edges of the photo to accentuate the drama of the incoming storm. The result conveyed everything I thought about before I left home. Sometimes it is great fun to head out with a camera and no expectations of what I will find – often times I am happily surprised. But for anyone intent on improving their photographic skill and taking a large number of successful photos, pre-visualization is an important component.