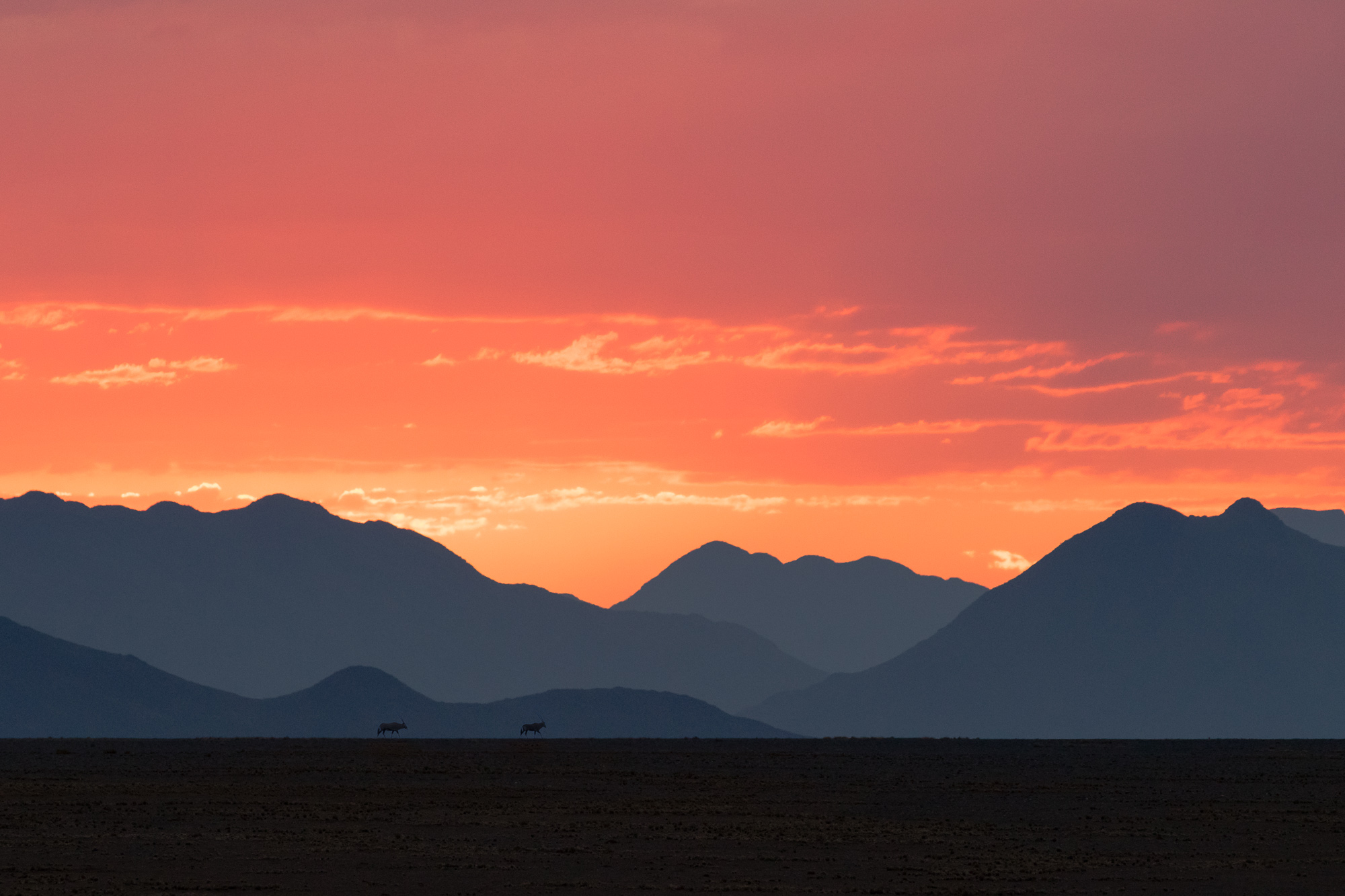 The crackling of distant thunder woke me from a deep sleep at 4:30 in the morning. Instantly wide awake, I looked to the floor-to-ceiling windows to see flashes of light behind the thick drapes. I made my way out of the door of my bungalow to the balcony overlooking a wide expanse of the desert valley. Suddenly a lightning bolt ignited the night sky, silhouetting the 1000 foot dunes in the distance.
It was my last morning in the middle of the Namib Desert in western Namibia. I stood on the balcony in awe of mother nature's light show. Lightning continued to split the sky as pregnant thunder clouds rolled across the endless dune fields. A dry cool wind was whipping across the desert floor, bringing respite from the African heat. All at once, the sky opened up and I stood in one of the most impressive downpours I've ever witnessed. This land receives only 10 mm of rain each year, and here was buckets of water drenching everything to the horizon.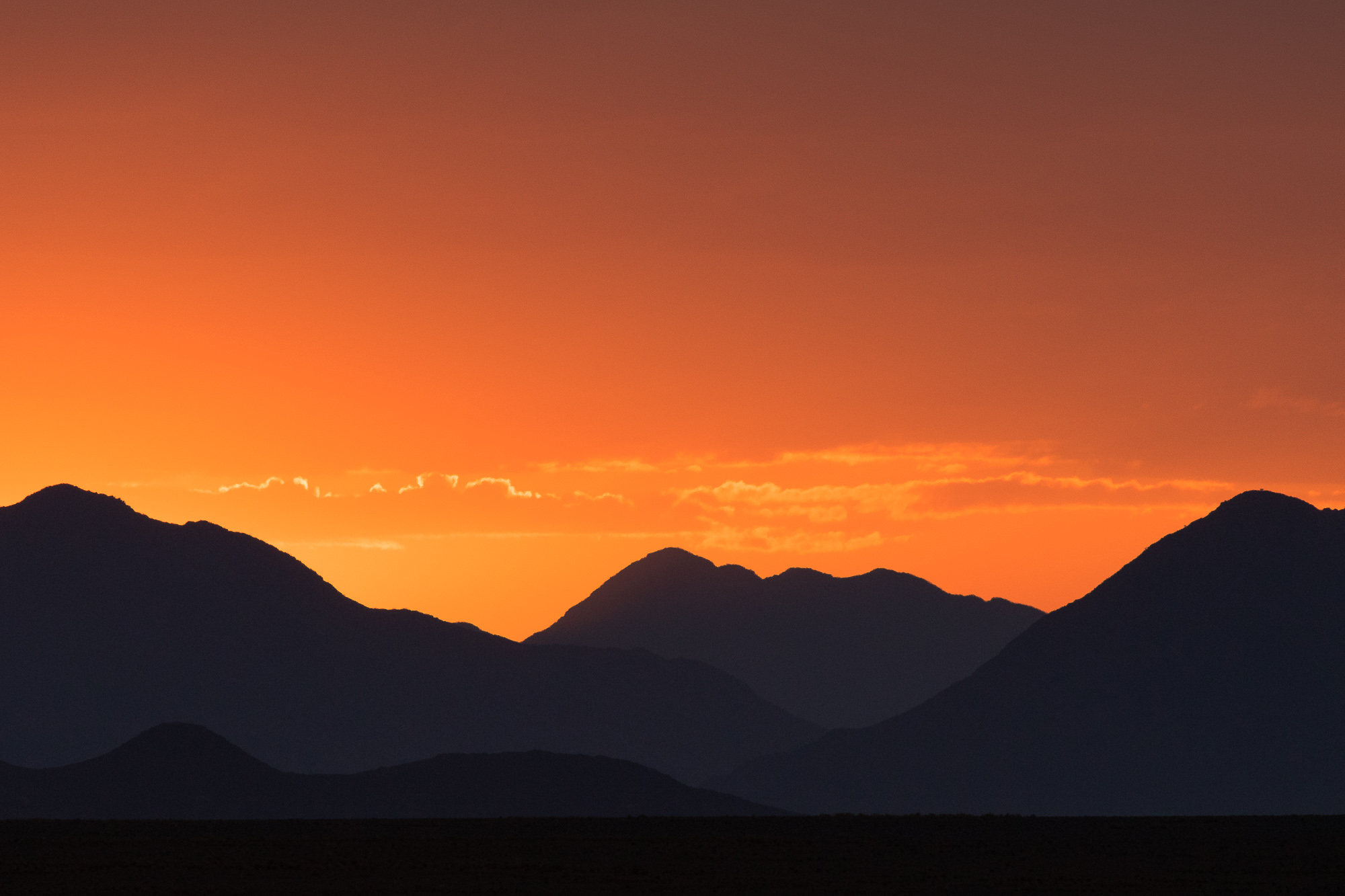 Although I was now soaked, I found that I couldn't bring myself to go inside. After twenty minutes of intense rain, it suddenly stopped. Ten minutes after that I was dry, thanks to the return of the desert's typical aridity.
I gathered my gear and met up with my traveling companions, who I was planning to join to do an aerial shoot at sunrise. Obviously these plans were quickly scrapped, as none of us wanted to be tossed around in a small aircraft in the middle of a thunderstorm. Instead, we headed out into the desert where we got into position to capture this marvelous sunrise over the Naukluft Mountains. Clear sky to the far east allowed the sun to light up the underside of the storm clouds, painting the sky a deep red. A couple of gemsbok oryx crossing the desert floor in front of the mountains added the icing on top.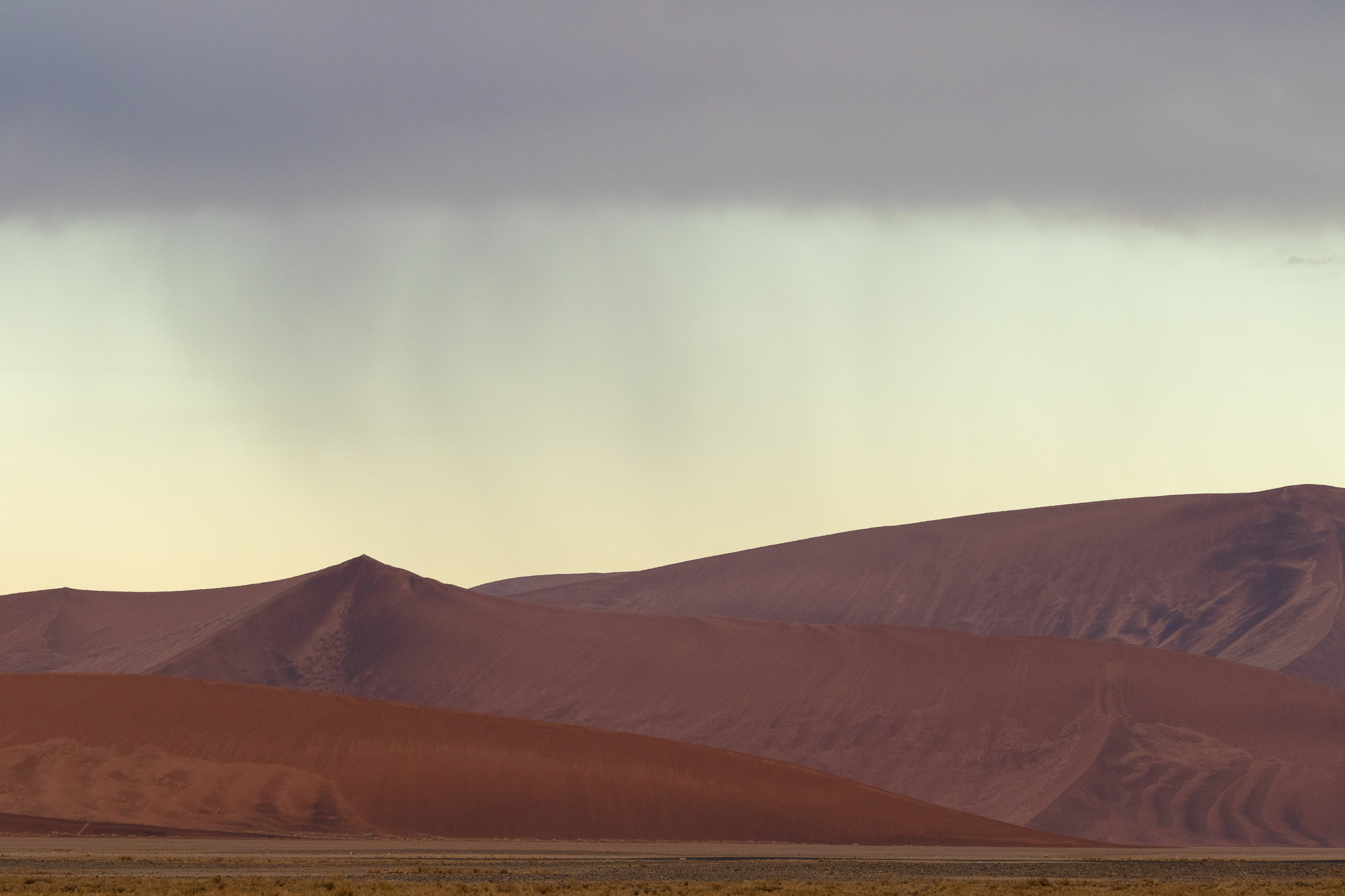 With rain still pouring from clouds in places, we chased the light through the dunes, hoping to capture this phenomena.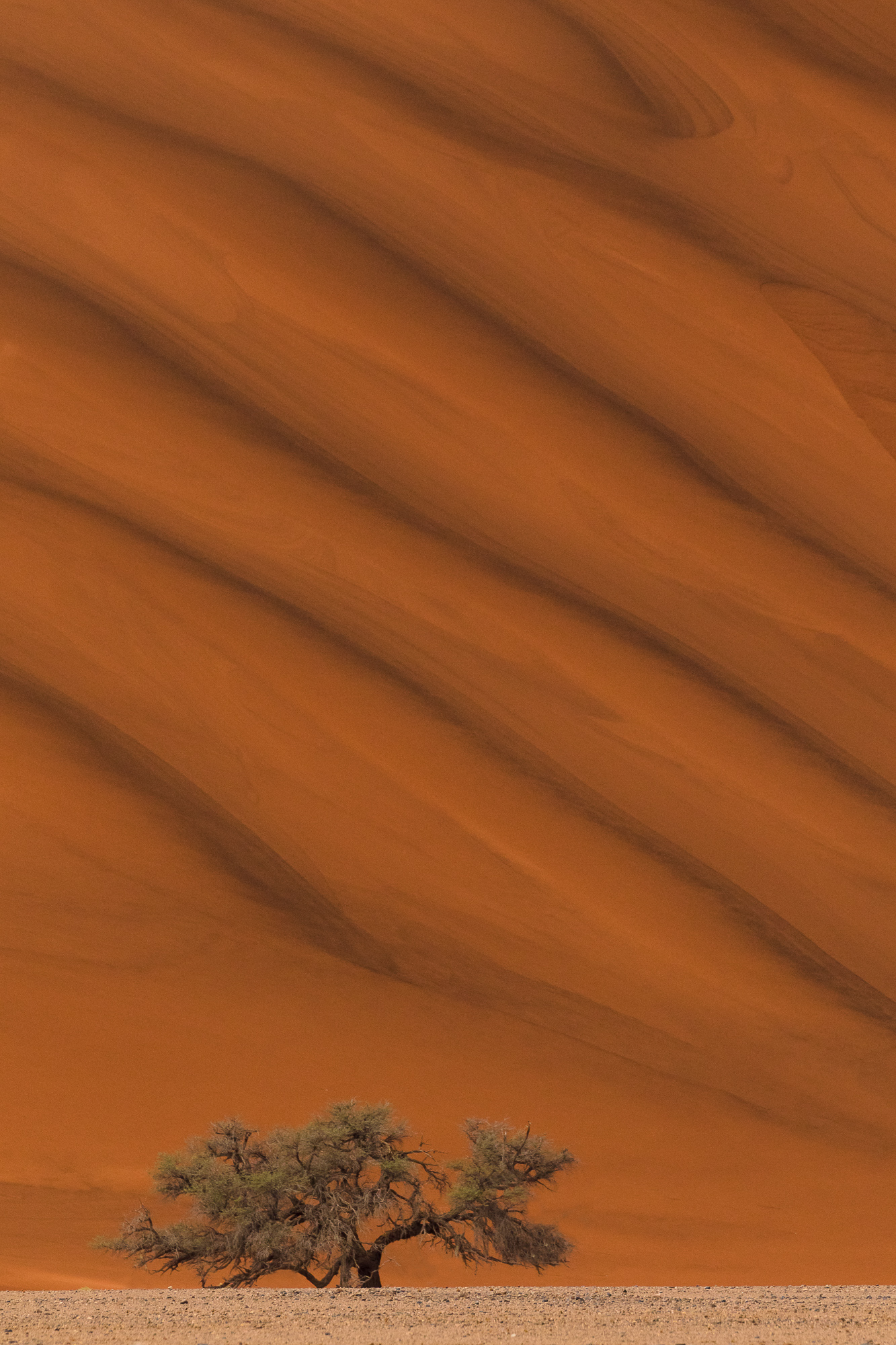 Although there was not enough accumulation to create pools of water (I was hoping to find a reflection opportunity), the wet sand lent a very different look to the massive dunes. The water softened the edges of sand cut by the wind, diffusing the contours into abstract patterns.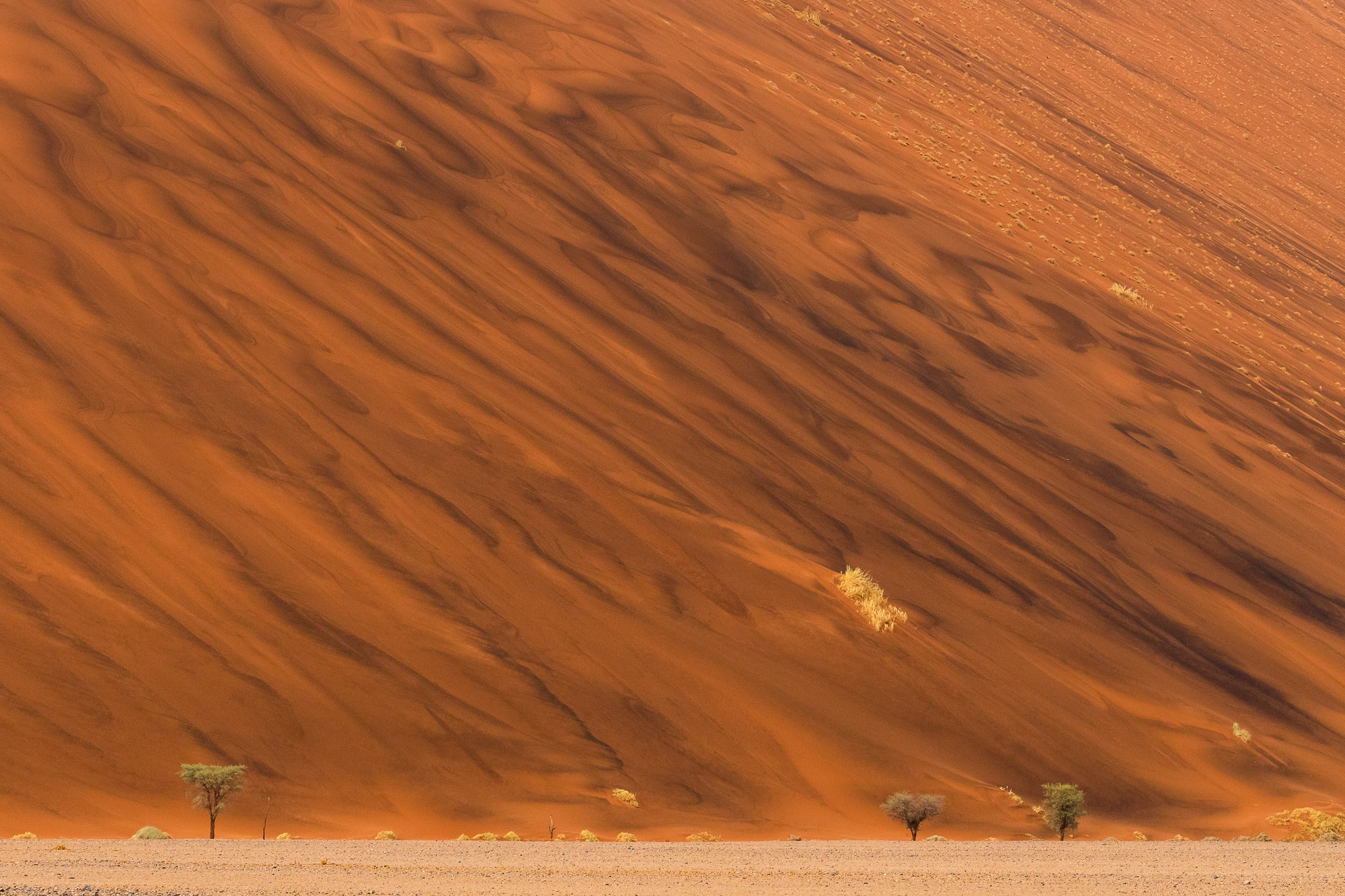 After about an hour of dramatic lighting, the skies cleared up into their usual blue. I felt so fortunate to witness such drama on my last morning in the desert.