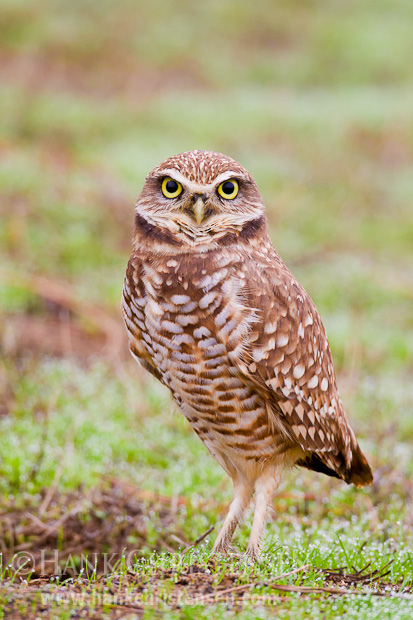 I have been working for this shot for quite some time. It was a personal mission of mine in the second half of 2010 to find and photograph a burrowing owl. I knew there were many living in the Bay Area, particularly the south bay, but finding one proved to be more difficult than I thought. A dozen or so scouting trips to Mountain View (which has produced good numbers in previous years) yielded nothing. Finally in December, thanks to a hot tip by Santa Clara Valley Audubon Society (SCVAS) Executive Director Bob Power (thanks Bob!), I found the one pictured here, at the edge of Shoreline Golf Links.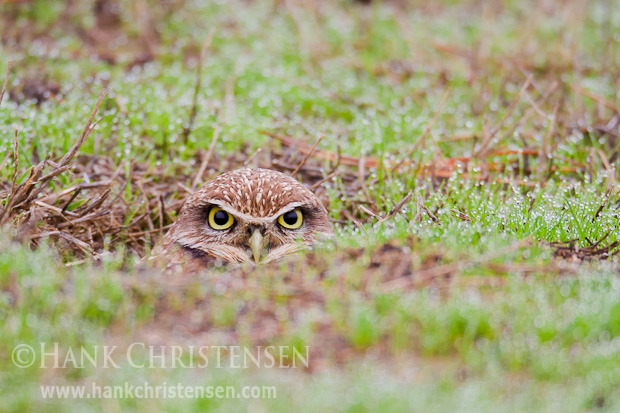 After scouring the area of the reported sighting for a while, I finally saw him barely peeking his head up out of his burrow. It was then I realized why I never found one before – to the naked eye, the burrow and owl looked like just another pockmark in the grass, or at best a small gofer hole. The owl's head looked like a clump of dirt. It was only when looking through my largest lens that I could resolve two yellow eyes staring back at me.
I skirted the burrow to give it a wide birth, and set up slightly behind a small tree, so as to break up my form. With all my movement, I definitely had the attention of the owl, and I wanted to see if he'd settle down once he realized I wasn't an immediate threat. My tripod was set up with the legs fully retracted and splayed out, so that the lens was only about a foot off the ground. Then I sat down behind my camera and made myself comfortable, knowing it could be a long wait.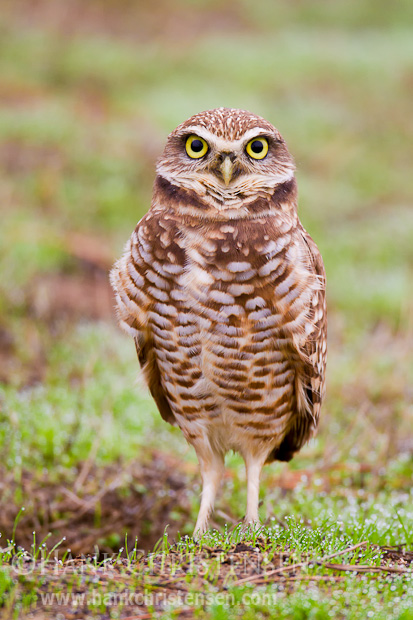 After about 5 minutes, I could tell the owl was relaxing, as he had stopped staring at me, and was now swiveling his head back and forth, presumably looking out for predators. I was hopeful, as I really wanted him to feel comfortable enough to pop out of his burrow and into the open, as those photos would be much better than just a head in a hole! Finally, after about 20 more minutes, he did just that, and I was able to capture the photos you see here.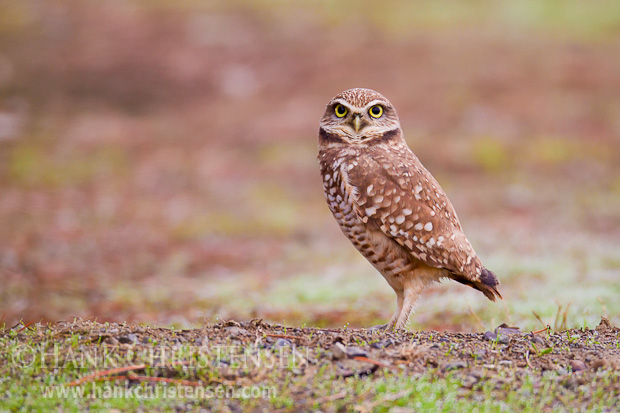 After a few minutes of posing, he flew a short distance away. This was followed by more head swiveling, until finally he left altogether. Satisfied with my session, I packed up and headed home, happy to have finally accomplished this goal.
On a technical note, I have to recognize how amazing the Canon 7D is in terms of low noise. Some of these shots were taken at ISO 1600 – with proper noise reduction in post processing, they print beautifully. In addition, the 4-stop image stabilization in the EF 800L lens is hard to beat. Even shots as slow as 1/160 seconds came out razor sharp!