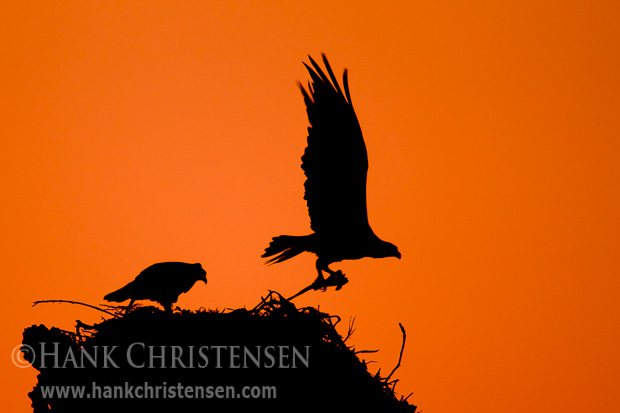 Last week I took a photography trip to the eastern Sierra to capture some spring time action over there. I went with a photographer friend to the south end of Mono Lake in hopes of a great sunset. Unfortunately, the skies were clear and the light was flat. Instead of a lasting sunset glow, it was as if someone just turned out the lights.
Fortunately, there were two pairs of osprey nesting near the shore in large nests built on top of two tufa towers. Just before dusk, the males came in close to the nests with fresh-caught fish. We had a brief show during which they perched on nearby tufa towers, enjoying their dinner, before they returned to the nests to deliver what was left to their respective mates.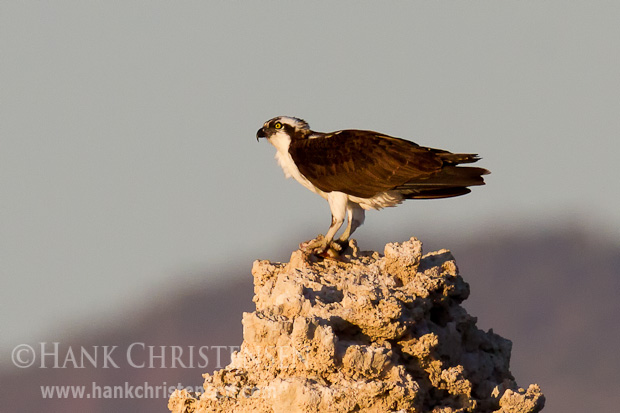 During this time, the sun set and the light left. However, just before it got completely dark, I managed to get a shot of one of the males leaving the nest with the rest of the fish dinner. Because the sun was well over the horizon, it back lit the birds. I knew I could not get enough detail on the birds, so I underexposed and went with a full silhouette, emphasizing the graphical shape of the osprey taking off.