Those of us who have spent a good deal of time in nature have probably witnessed a few moments of pure magic when weather, light and other natural forces converge to create unforgettable events. I have had several such experiences, some of which I've been fortunate enough to have had a camera ready to capture them. When I see it in person, I'm often awe struck at the magnificence before me. But many times when I get home and process the resulting photos, I realize that I'm going to have some explaining to do. Sometimes the colors and lighting are so striking and unusual, that the resulting photo looks completely fake. This is especially true in this modern world of extreme photo manipulation capabilities.
But what to do in such circumstances? I certainly don't want to de-saturate and alter the unusual colors so that the scene looks more "natural". That is like saying these lighting events never occurred and what I witnessed should have looked like any other day. Instead I process the image so that the result matches my memory and add some written descriptions to allow the viewer to understand what they are seeing. So without further ado, here are three "crazy" lighting events and the resulting photos.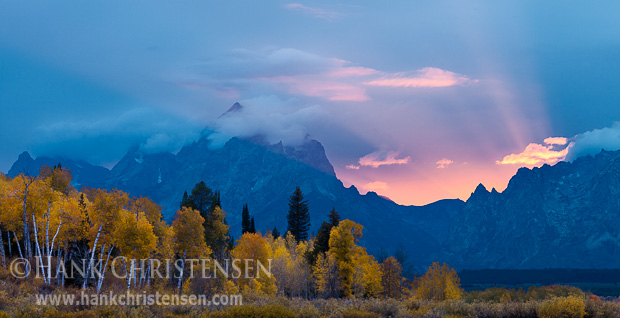 We'll start with one of the most unbelievable sunsets I have ever seen. I was with some friends on a photo trip in Grand Tetons National Park a couple of years ago to photograph wildlife and fall colors against the spectacular backdrop of this mountain range. Smoke from nearby wildfires somewhat hampered our efforts early in the trip, but it also lent a special atmospheric quality to the otherwise clear skies.
The sun set behind the notch in the mountains, and we waited. Finally, it peeked out underneath the clouds on the horizon, cutting through the lingering smoke and turning the sky into an unbelievable magenta. In post processing, I kept finding myself wanting to desaturate or change the sky color, but finally I just left it as is. That is how I saw the scene, so I have to trust the colors.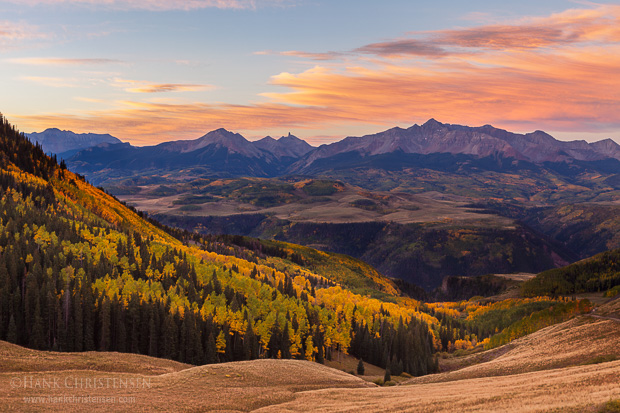 The next example is from a recent fall color photography trip (notice a pattern here?) that I took to Colorado. Standing just below Last Dollar Road and looking out over the Wilson Mesa, I waited for what the sunrise would bring. The morning did not disappoint, and the clouds over Mt. Wilson lit up a beautiful orange. What was strange about the scene though, was that the entire landscape was cast in a similar orange, as if the color from the clouds on the horizon was emanating out in all directions.
What I realized later was that directly above me was a similar cloud catching similar light. It acted as a giant diffuser, coloring the grass, trees, and mountains in that same orange tint. Again I found myself tempted to remove the color cast, but again, that glow was real, and that is exactly how the scene looked that morning.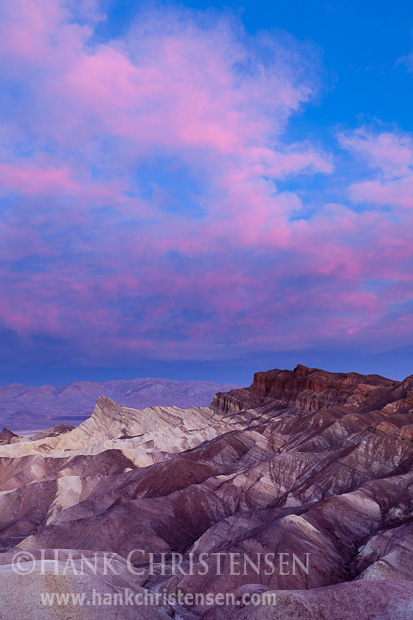 This sunrise was really spectacular. Given that I was shooting at a popular roadside pullout, the sky really saved the shot here and made it unique (which is why I emphasized it so much in this photo). The bright pink/magenta color continued to get more and more intense as the sun rose behind me. This was one of those moments when the heart starts beating faster and I can feel the blood pumping. I knew I had just seconds to capture the shots I wanted while this phenomenon remained. In all, within 30 seconds it was gone.
As I look back on these shots I see wild colors and unreal looking landscapes. I'm not sure if I'll ever print any of these, because they look processed beyond reality. But looking at these photos also reminds me of some amazing moments that I've witnessed first hand. I wouldn't trade them for anything.