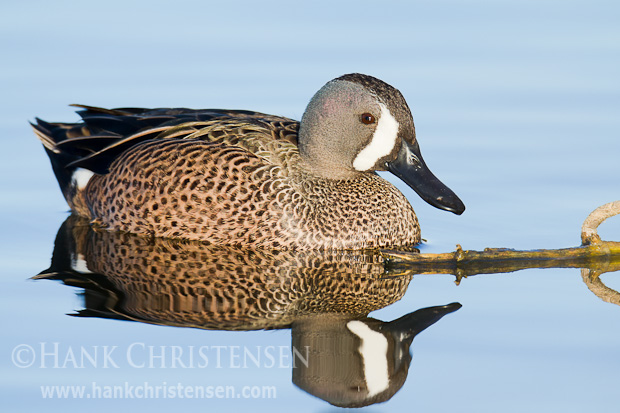 Things have been pretty busy for me lately, with a quick vacation out of the country and running here and there to capture migrant birds as they pass through the area. I did manage to get some photos processed of a late departure – the blue-winged teal. There is a small pond near my house (local birders know it as "Radio Road") that is one the best places in the Bay Area to view blue-winged teals in the winter. Several pairs are usually present and can often be viewed quite closely.
I saw this male in prime photographing position when I was out running. I find that running is a great way to scout out the miles of shoreline near my house to see where specific birds might be found later in the day. If he would just remain in the same general area for a while longer, I could finish my run and grab my camera.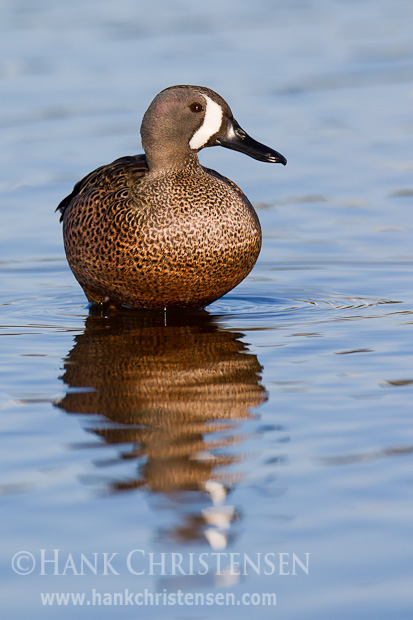 When I returned later in the day, he was still sitting in the same spot sleeping. Several other photographers had recognized this great opportunity as well and had set up shop nearby. Now the waiting game began. I needed him to wake up! I got in a comfortable position, sitting on the ground behind the tripod with its legs splayed out so as to get as low as possible. After about 15 minutes, one of the other photographers gave up and left. You can only take so many photos of a sleeping bird!
Finally the teal woke up, preened for a while, and swam around close to shore, feeding on submerged vegetation. The lighting was perfect, with the sun just starting to set behind me. I felt slightly bad for the absent photographer because I know I've been that guy before. The more experienced I become, the more I realize that patience is one of the most important virtues of wildlife photography.